AdNow is a native advertising network serving millions of impressions per day. Here we're going to write about AdNow Review based on our experience after seeing their presence and popularity.With over 150k publishers and 1700 advertisers, AdNow is a leading ad networking operating since 2014. On a daily basis, they deliver over 14M impressions across 107 countries. From this stat, you can think of how fast they have grown.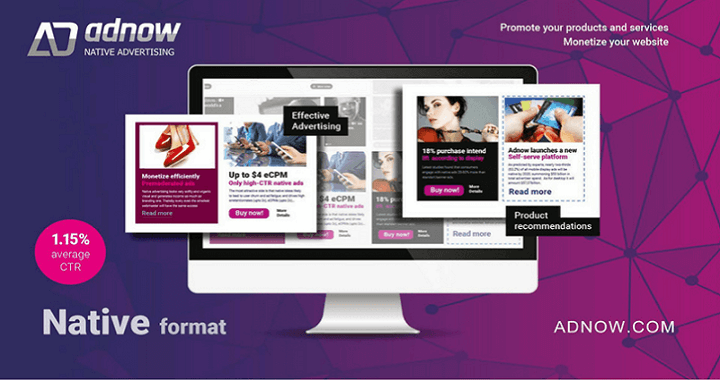 When it comes to native advertising, AdNow is among the top advertising network with amazing features. I'll discuss the AdNow features later in this AdNow Review.
AdNow Introduction
AdNow started their operation in 2014 when a group of people having a keen interest in digital marketing, Big Data, and RTB decided to make a new hybrid native ad format.
As per the data available on the site, it took over a year for the team to come up with the core platform. But rest is the history. They are currently delivering around 5 Billion impressions every month which is an achievement.
The main reason behind such rapid growth is the technology & data enabled platform. It was their founder who were having 10-12 years of experience in RTB, Big Data technologies, media buying, pay PPC and mobile ads.
Once their core team found that the platform is ready to serve the online advertising agencies, they opened it for public in December 2015. Since then they are constantly growing with the quality, impressions, and conversion.
AdNow offers following three kinds of ads in all IAB size-
Native ads
Banners
Hybrid Ads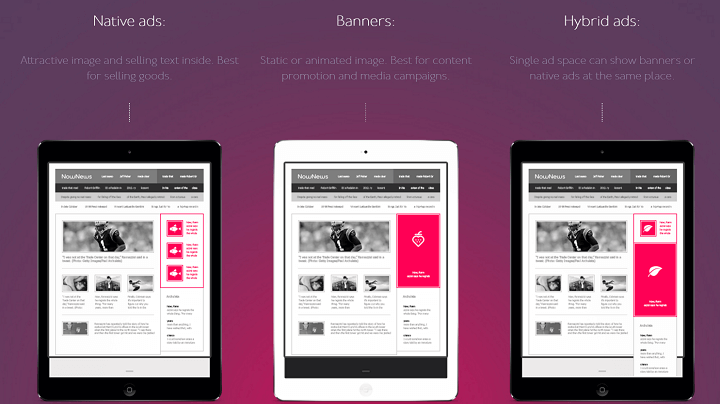 AdNow is equally famous in both advertiser and publisher community, and this AdNow review will be covering both.
But before moving further with this AdNow Review, let's see some of the features of AdNow.
Features of AdNow Ad Network
Here are some of the quality features of AdNow which make them ahead of the other native ad networks.
Over 5 billion impressions per month
Over 900 million unique users per month
CPM varies from $0.1 to $2, depending on the location and many other factors
More than 150k publishers throughout the geographic locations
Reach in 107 countries across the globe
Here are the characteristics of the traffic those are getting generated from their 150k publishers.
AdNow Review for Publisher
With a very short span of time, AdNow has managed to attract over 150k publishers which is a high figure. Such number doesn't come just by promotions. You've to provide the quality to your publishers, and this is what AdNow does.
Their 150k publishers send over 5 Billion impressions every month which makes AdNow a leading advertising network.
Publishers can sell traffic and monetize their website easily. You can monetize both websites as well as a mobile app (if you possess) with AdNow.
AdNow also provides user acquisition content promotion program. Here automatic promotion of your content with native ads platform will boost your page views by 50%.
It is no longer a secret that AdNow pays more than the several another network. You'll find people asking about the reason. So here are those-
Rules for publishers
Although not very hard but here are some of the guidelines a publisher must follow to get it in the AdNow publisher system.
Can't accept the site which has broken copyright laws.
Those sites can't be allowed which contain objectionable content like adult, spam, spyware, adware and malware.
Websites promoting illegal activities can't be allowed
Also, after getting accepted, you are not supposed to any of the following-
Use bots or software to manipulate clicks
Click your own ads or ask someone to click intentionally
Use proxies, PTC sites and auto refreshing sites to generate fake traffic
Get Started with AdNow as a Publisher
Here are some of the simple steps to start with AdNow as a publisher.
Just signup through the sign-up link and fill the required details. Once you are done with the registration, you will receive an email to verify your account.
After verification, you'll be redirected to the dashboard where you can add your website and integrate the ads.
Now you will have to integrate the ads. All the available widgets are highly customizable. It is recommended to create a separate widget for desktop and mobile traffic. You can customize the image size, font, background, rows and columns from the widget settings box.
You will be shown the code after customization. You can place the code wherever you want to show the ads.
The best thing with the AdNow is, they provide a personal manager to all the publisher in their local language. Here are some of the local language available.
AdNow Features for Publishers
Below are some of the publisher-specific features by AdNow. These shows why over 150k publishers have joined the platform in such a short span of time.
Weekly payout starting with $20 and paid via PayPal, Wire, and ePayments
No code conflicts with any ad systems you are using on your website
Ads are pre-moderated and getting checked by AdNow team
Personal account manager with local language support
Average native ad CTR of 1.15%
Quick and hassle-free setup process
Other than English language sites can also join
Global coverage & Competitive rates
Revenue and performance real-time tracking option
Good customization for ad widgets
Growing number of partners and publishers
AdNow Review for Advertisers
AdNow equally provides importance to advertisers as well. Ultimately they are the business source and as a platform AdNow ensures their money is not getting wasted at all.
Advertisers can buy websites traffic with native ads easily through AdNow platform. They get global traffic from premium and highly engaged sites.
Companies can promote their products and services including blog posts, videos, etc. to the real users.
Native Ads receive twice as much visual focus and generate three times higher amount of consumer attention time than banner ads, giving marketers a powerful influence platform.
With the help of AdNow technology enabled platform, you can start your ad campaigns in minutes. Also, AdNow support team is available to assist you in case required anytime.
The below graphic shows the audience profile of the AdNow traffic. You can see how those are distributed all across the geographic.
AdNow Features for Advertisers
AdNow offers some unique benefits for their advertisers. Here are some of the advantages-
Serious analysis of the publisher traffic and no way fraud is allowed
Low CPC and so have to pay less for more leads
Native ads look like the part of the existing content=>>high CTR =>> an engaged traffic.
AdNow provides full support, help with creatives and give advice on Landing
AdNow has in-house publishers inventory from webmasters all across the world
Advertisers can set daily limit for campaigns
Advertisers can also target their ads by browser, operating system, and behaviors
Targeting campaigns based on day, hours, etc.AdNow's Macros ID's will help you to know all the details about your campaigns
Blacklist websites where you don't want your ad to run
AdNow has their own RTB platform where you can do the real-time bidding for any ad space.
AdNow FAQ
Here are some of the common questions being asked by new advertisers and publishers. We have tried to consolidate those here for a quick look.
1. Is there any site requirement for the webmaster?
Ans: You can check the above requirements section for the details.
2. Is there a minimum deposit for the advertiser?
Ans: 30$ and you can pay through cards, PayPal, etc.
3. What about Payment Frequency for publishers?
Ans: Weekly
4. Is there any referral program?
Ans: Yes, there is a referral program, and you'll get 5% commission
5. Average Payouts?
Ans: Completely depends on the traffic, ad clicks, geo, etc.
6. What payment methods you accept?
Ans: Through card, PayPal, WebMoney, wire transfer
7. Minimum Payout for a publisher for each payment methods?
Ans : Depends on the payment methods as below-
• e-Payments – from $20 (with a 0% fee)
• PayPal & WebMoney – from $20 (with a 5% fee)
• Wire Transfer – from $200
• Echeck/Local Bank Transfer – from $200
Here is the payment history from the AdNow dashboard-
8. What is your CPM Rates?
Ans: Usually $0.1-3.00
9. Any Fee setup for the advertiser?
Ans: There is no such fee
10. Your Working Model?
Ans: AdNow helps advertisers to increase their sales with content discovery, product recommendation and channel advertising through a publisher network.
Wrapping it up
AdNow is one of the best Native ad networks. If you are looking to monetize your website or mobile app with some advanced ad network, you should try AdNow. They are providing good CPC but again it entirely depends on the ad, Geo, and few more parameters.
We have tried to cover each aspect of AdNow in this AdNow Review and hope you got a clear idea about the network. If you have worked with AdNow earlier, please share your experience with us.
You should also check the official thread in digital point forum of AdNow for updated stats and information. There are other form of marketing as well which can be equally beneficial like the print media. You may try ringless voicemail wholesaling to get some good capture of the business leads.
AdNow Review
Summary
AdNow is a native ad network for both advertisers and publishers. If you an advertiser and not getting the expected result from the existing traditional ad networks, try this once.
Also, if you are a website owner and looking to monetize your website, try AdNow. You can also use it with other ad networks.