When you are starting a blog, there are certain points which need to be taken care to ensure that the base of the blog or website is solid. The few basic elements you should decide while starting a blog can be-
What should be the niche of the blog- for example, we have education/Information Technology software niche
What should be the name of the site- This will be usually similar to the domain name you'll select
What hosting you should select- Very important point as this ensures that how much time you site will be live and performance
What theme/templates you should use- always select the professional and featured theme for best result
Although all of the above-explained points are crucial but the one today we are going to focus is hosting. As we think hosting is the most crucial part of any website and so you should not compromise here. It is hosting which ensures how much time your website will be up and running. If your site itself is not up, then how can you even think of online business.
Again, hosting ensures the website performance and speed which is again a very important SEO factor and so you should focus on the hosting most. Although there are hundreds of companies which provides web hosting, but all are not those can be used. Still, most of the web hosting companies claim to provide 99.99% uptime but the reality is something different.
In this post, we are going to see 5 best web hosting for blogs in 2020 which will help you host your site in a better way. We will do a detailed comparison of these 5 best web hosting for blogs.
5 Best web hosting for Blogs in 2020- Based on experience
I am writing this 5 best web hosting for blogs post based on my personal experience. I have personally used all the 5 best web hosting for blogs provider listed here and so can put my honest opinion.
If you think some other hosts also need to be included in this 5 best web hosting for blogs, then please comment on the post and we will ensure it in the next blog post update if found suitable.
#1 Templ
Looking for a managed hosting for your blogs, then Templ can be your next destination.
Templ is a managed WordPress hosting which is powered by Google Cloud. Yes, the infrastructure of the Templ is hosted on Google Cloud.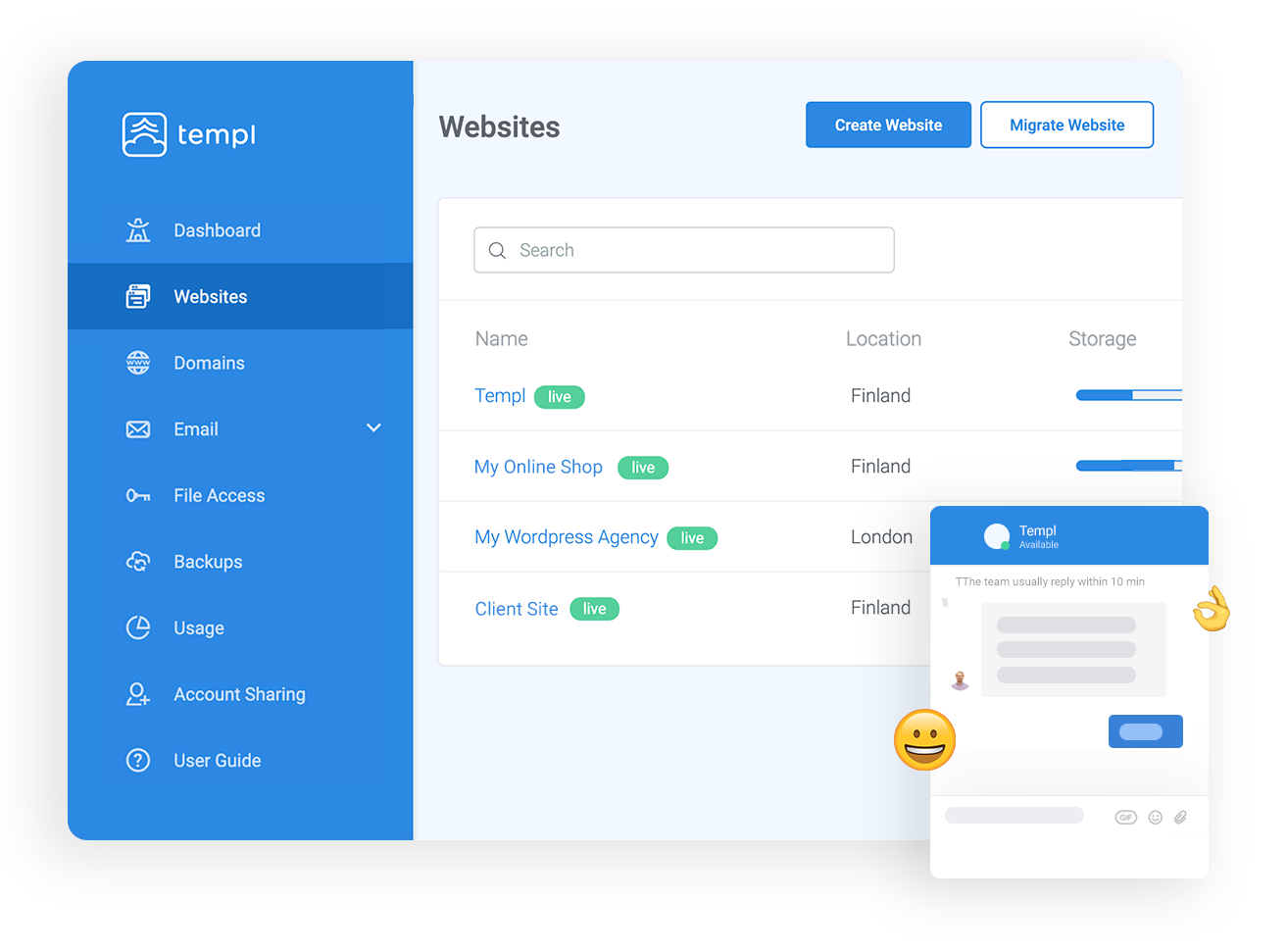 You might have a question on when Google cloud is directly available then why we need Templ?
Well, working with the cloud provider directly is not so easy, especially for the not so technical people. For all those, the platforms like Templ is a great help.
Templ customize the cloud host offering and optimize for the best performance. Along with the best performance it also makes the process easier for the business professionals as well. That means even though you don't have technical expertise, still you can host your blogs and website pretty easily.
As of now Templ is offering the following three kind of hosting solutions-
WordPress Hosting
WooCommerce Hosting and
Hosting for agencies
All these are well optimized for the cost and performance. The best about Templ is, site migration. You can do yourself using a very simple interface or let Templ team migrate your site for free.
Templ Pros & Cons
Pros
Daily Backups
Very easy to use interface
Free site migration
Easily scalable
Excellent support
Powered by Google Cloud
Cons
Can be costly for the beginners as the pricing starts at $27/month when billed yearly.
#2 000webhost
I have kept 000webhost as being a free web hosting for blogs and website, they provide excellent service and support. And if you are looking for more, you can even move to the paid plans easily and anytime.
000webhost is in the market for last 11 years and constantly they are improving and getting matured. It provides zero-cost hosting for PHP and MySQL with cPanel for free forever. The best thing is being free also, they don't show a single ad on the website. Here are some of the unique features of the 000webhost hosting-
Leaders of free web host– You don't even have to add your card details. Just signup and start hosting your website
Excellent uptime- Yes, being free also, 000webhost ensures at least 99% uptime which is recommendable.
Website Builder- 000webhost offers one-click website builder. That means you can design and customize the theme yourself
If you are looking for, even more, you may switch to the paid plan anytime where you can enjoy unlimited stuff like bandwidth and spaces. So, depending on your need, you may select the plan.
000webhost Pros & Cons
Pros
Pros
Completely free web hosting
2 domains can be hosted for free
Free website builder
Sufficient disc space and bandwidth
No card needed for free web hosting
Excellent uptime
Can be upgraded to paid plans for better benefits any time which starts at just $3.49/mo.
Cons
Cons
As it is free and so support can be delayed sometimes
#3 HostPapa
Hostpapa is one of the leading hosting solution providers in the world and among the top in Canadian region. They offer various solutions for hosting for different kind of websites. For example, Hostpapa has separate and dedicated hosting for WordPress, Forums, eCommerce etc.
With various data center spread across the globe, targeting a particular segment of users are easy with Hostpapa. This not only helps you optimize the price but also the speed you serve to the customers. Also, Hostpapa comes with the Cloudflare CDN which cache your content and serve fast to the users.
Also, in terms of website loading time, the hosting comes at the top. We checked a site with 211kb page size and 17 requests and it just took 1 sec to load. Here are some of the pros and cons I found with Hostpapa. You can check detailed Hostpapa review here.
HostPapa Pros & Cons
Pros
Pros
30-day money-back guarantee
Free domain name
Unlimited diskspace & data transfer
Free site migration service
Fast servers (PHP7, SSD & CacheCade Pro 2.0 caching)
Free SSL & CloudFlare CDN
Support team available 24/7
Cons
Cons
Automated site backups are only included with Business Pro plan
#4 BlueHost
Bluehost is world's another leading web hosting provider which provides a wide range of hosting solution starting from shared hosting to the dedicated servers. The only issue with BlueHost is the price and support. Their pricing plans are high and also being among the top of pricing, BlueHost doesn't provide excellent support.
Bluehost's pricing and plans start at $3.49 per month where you can host one domain and get unlimited emails. One domain will be free for you and will be free until the time you are a Bluehost user. Additionally, you will get the advertising and marketing credit of $100. It also offers free SSL certificate for the domains associated with it.
Bluehost Pros & Cons
Pros
Reliable hosting especially for the WordPress
1-domain free with the hosting along with SSL
30-days money back guarantee
1-click WordPress installation
Cons
Bluehost is comparatively costly where for one website you need to pay minimum $3.49/month
Support is slow and so can be irritating sometimes
#5 Namecheap
I am currently a Namecheap user as you can see our website hdfstutorial.com is also hosted on the same. Although Namecheap is not free and only premium plans are there but still there are few features which makes it one of the leading web hosting solution.
Also, in the first year of subscription, you can good discounts but that is not unique to Namecheap. Recently, they have started giving free SSL to all the domains hosted on Namecheap for one year which keeps your site secure. But the same will be a paid service after one year.
The best thing I liked about Namecheap is the support. They have world-class support team able to help you in any situation. You can connect them through chat, emails, and calls as per your convenience.
Namecheap Pros & Cons
Pros
Excellent support
Good uptime and performance
Free SSL for one year
One-click installation of many apps
Pricing starts at $9.88 per year which is comparatively cheap
Cons
They don't support website transfer from another host unless you're doing full cPanel transfer
Renewal of the web hosting is costly with Namecheap
So, if I have to select from the top and best web hosting for blogs in 2019, I will go with any of these three explained above. For the beginners, I recommend going with 000webhost and once you are good to pay and expand, you can go ahead with the paid plans as desired.
Also, I would like to mention here that, the following selected 5 best web host for blogs are based on the following parameters and factors-
Price associated with the hosting
Usability and ease of use
Support and level of the support
Performance, speed, and uptime
And based on the above parameters, we found Templ, 000webhost, HostPapa, BlueHost, and Namecheap as the perfect fit. As 000webhost also offers completely free web hosting solution and so, it has some extra edge for sure.
What do you think on this? Let me know your fav web hosting for blogs!