Content marketing is one of the best online marketing techniques these days. Also, it is famous because content marketing is comparatively cheap to the other forms.
It has been proven that users usually buy based on the feedback shared by others or reviews and so the importance of content again increased. Also, again in content marketing and the distribution is as follows-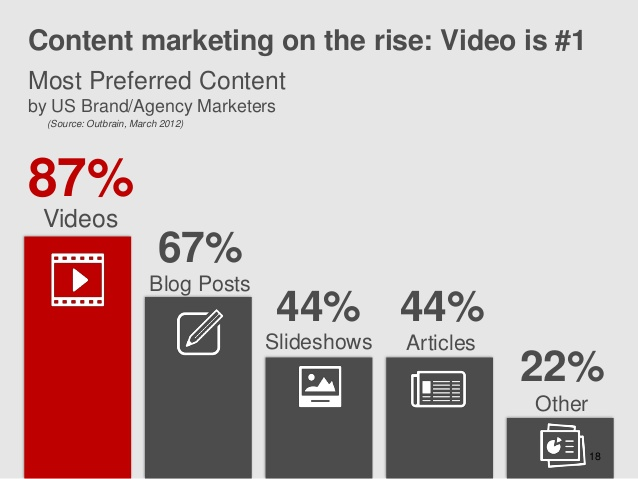 As you can see, the article and blog posts together constitute the majority part and most of the internet marketer follows these for their campaigns. And so you should write the appealing content for the best result.
Most marketers advise producing evergreen content that can be used for years. Here, evergreen content means those which don't get outdated with time.
For example, in the article, the best internet marketer in 2017 is general content which is true at the current time, but we are not sure whether the same person will also be on top in 2018? And so such content changes with time. The top places may be occupied by some other internet marketers.
Whereas the articles like "content marketing strategies" are the kind of evergreen content which will keep in trend for years. Yes, there can be slight changes with the time with the new techniques, but everything cannot be changed suddenly.
And so, it is always preferable to write evergreen content for the best benefits. Here in this article, we will talk about how to produce evergreen content. We will see 3 best evergreen content strategies.
But before this, let's see the benefits of having evergreen content-
Rank higher in search engine and for longer
Gets more leads
Less effort, once generate, and you'll have benefit for forever
Will keep giving you the traffic
3 Best evergreen content strategy
#1 Timeless and Sustainable
You should always focus on creating timeless and sustainable content for best benefits. We have discussed the top benefits above. Focus more on "how to guide" or step by step methods kind of detailed posts which will last longer.
Also, while writing such guides, make sure to choose the topic which will be relevant irrespective of the time. For example, if you are writing something like "step-by-step guide to install WordPress", this will be applicable for years. Still, the method to install WP is same what it was in the first version. Some options may change, but the process will be the same. And so you should focus on such content.
#2 Recycle the content
This is one of the best ways to keep your content relevant, rank in search engine and keep getting traffic. Once the post becomes older and not refreshed, usually the search engine starts ignoring it. And so let the search engine know that it is still relevant by updating it, by sharing on social media, and by giving some social signals.
Also, to get such benefits, your content must be of high quality and relevant. Either you can write yourself or get the help of some experienced writers from professional sites like https://domythesis.net/.
#3 Don't put content in a closed box
This is another important point for evergreen content strategy. That means, don't limit your resources and let it flow with time. The best choice for out of the box resources are-
Video tutorials
Infographics
Frequently Asked Questions (FAQs) Posts
"How To" Guides
The "History Of" Articles
Personal Testimonials
Glossaries of Phrases/Terms
Industry Resources
These kind of posts will keep you giving the best result for the effort you'll make initially.
Of course, it is tough to produce evergreen content that lasts for longer, but once done, you won't have to look back for years. So, always try to focus on your main articles rather than just writing for the numbers.