If you're an aspiring coder or programmer and planning to buy a programming laptop then this article is for you. In this article, I am going to help you with how to choose the best programming laptop. We will also talk about how you can save big while shopping on the laptop.
I am in the IT sector for the last 10 years and have used multiple laptops for general purposes and programming. There are many factors that you need to considered and when it comes to coding, a lot of those need to be considered. Usually, when we go to the coding requirements, you may need better specifications compared to general-purpose laptops.
How to choose the best programming laptop- Top factors to consider
This article is completely focused on the programmers who are looking to buy a new coding laptop. Here are some factors that need to be considered-
#1 Memory (RAM)
Usually, you may be finding the coders complaining about the slowness of the laptop. Although there can be various reasons behind the slowness but RAM can be a major one. Although all the popular programming software or tools require a minimum of 2GB/4GB RAM but that's not enough.
I strongly recommend you to have at least 8 GB RAM and if you're willing to buy a new laptop then go for at least 16GB RAM. Although the pricing will be definitely high for a high RAM laptop but you can follow this guide on how to save big while shopping to save some bucks. Ultimately it's the RAM that makes multi-tasking easy.
2 Processor
A faster processor is required for heavy projects like programming, design, and more. It even helps you more when you need to switch between multiple windows and applications. Keeping all these in mind, make sure you select a fast processor. Here are some of the fast processors that you can use- AMD Ryzen 9 5900X, AMD Ryzen 9 3950X, AMD Ryzen 5 3600X, AMD Ryzen 3 3100, AMD Ryzen 7 5800X, Intel Core i5-10600K, and more. Below is a quick comparison of some best laptop processors for a different purpose.
| Purpose | Recommended CPU | Sample SKUs | Battery Life (in Hrs) |
| --- | --- | --- | --- |
| Workstation / Gaming | Intel Core i5 / i7 H Series | Core i9-8950HK, Core i5-8300H | 3-8 |
| Everyday Productivity w/ a Boost | Intel Core i7 U Series / Intel Core i5 or i7 G Series / AMD Ryzen Mobile 7 | Core i7-7500U, Core i7-8550U, Core i7-8705G | 5-17 |
| Everyday Productivity | Intel Core i5 U Series / AMD Ryzen Mobile 5 | Core i5-7200U, Core i5-8250U | 5-17 |
| Medicore performance | Intel Core m / Core i5 / i7 Y Series | Core m3, Core i5-7Y54 | 5-9 |
| Budget laptops | Intel Celeron, Pentium | Celeron N3050, Pentium N4200 | 4-6 |
| Cheapest laptops | Intel Atom Series | Atom Z3735F, Atom x3, Atom x5 | 7-12 |
3 Display
A laptop's screen can be one of the most important requirements for any programmer. While developing the application, developers need to stair on the laptop screen for long period focusing on minute objects. And so, the screen size should be selected as per your need and requirements. Mostly the budget laptop comes with 1366 x 768 that is good at a mediocre level. This might not be great for multitasking and so for programming. So, it is not recommended to go for less than a full HD 1920 x 1080 (1080p) display.
4 Pricing
As we are looking for a high configuration and so definitely the pricing will be a little on the higher side. Also, the pricing can heavily depend on the brand you're looking to buy. In mid-range (kind of cheap and best) I personally prefer Dell for all-purpose including the programming. Here are the 3 best Dell programming laptops-
Dell XPS 15 – for fast performance
Dell XPS 17 – Great screen and design
Dell Inspiron 14 5482 – Great CPU and graphics
These laptops are usually priced between $750-$1300. Recently I bought Dell Inspiron 14 5482 and I am enjoying it. This cost me around $850 after using some discount coupons.

Using a discount coupon is a great way to save some additional bucks while shopping. If you're also planning to buy a Dell laptop use the discount coupons and deals. I personally prefer Slickdeals for finding deals and offers for Dell laptops. You can look for Dell Coupons on Slickdeals to get some additional savings.
Slickdeals offers working coupons for Dell laptops. You can find a badge called verified coupon on Slickdeals which saves your time while searching for the best deals. Also, they have a browser extension that you can install to get the coupons automatically applied while shopping.
5 Storage type and capacity
Storage type influences the speed of the laptop and so select carefully. There are two types of laptop storage-
SSD- solid-state drives
HDD- which is a traditional, mechanic hard disk drive
If you're looking for the best laptop speed and performance then go for SSD. With SSD, the laptop will have better speed and is lighter compared to HDD. SSD is also more suitable for portable devices. So, if you're going for the best programming laptop, I would recommend SSD with at least 128 GB of space. A safer option is SSD with 256 GB space. Here is a quick comparison between SSD vs HDD.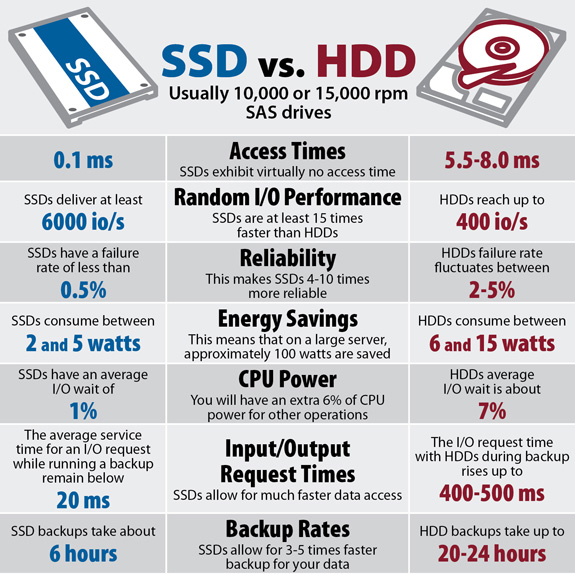 6 Keyboard
You should also not compromise on the keyboard quality as ultimately you're going to type all your code on the keyboard. I personally prefer a programming laptop having a compact keyboard. Make sure your keyboard is having smooth key pressing and should not be causing any issue. You may prefer to buy the laptop with a keyboard having a backlight so that you can enjoy it during travel and during the night.
7 Operating System
Although we have talked a lot about the processor, RAM, and others still operating system plays an important role. If you're going with Windows OS then definitely you have many options but if you're preferring MACOS then Apple is the only option. I prefer the Windows operating system for generic programming and MAC for design-related.
Conclusion
By following the above seven factors you can select the best programming laptops. Along with all these, you should consider battery life as another factor so that you can work as you travel. If you're also looking to buy a programming laptop, follow this how to choose the best programming laptop, and enjoy programming.