MilesWeb is an Indian web hosting company providing the hosting and domain services across the globe. With the guarantee of 99.95% of uptime, MilesWeb is considered as one of the most reliable hosting solutions. Let's see the details in this MilesWeb Review.
The company provides 24×7 supports through Phone, E-mail, and Live chat and also can be reached using a toll-free number.
So if you are annoyed with the issue with your current hosting provider, it is the time to try and use MilesWeb.
From the feedback, I have received from the existing users and forums, their support team is quick and able to get you out of any issue. It can be a technical problem or performance or even account related issues.
Apart from the domain name registration, MilesWeb provides Shared hosting, reseller hosting, fully managed VPS Hosting, Cloud, and fully managed Dedicated Servers.
In this MilesWeb Review, I will talk about the different products MilesWeb offers with the features. Also, MilesWeb Review will depict why it is considered as the top web hosting services in India.
What is different with MilesWeb?
Here are some of the unique features, I found with MilesWeb. You'll hardly find a web hosting company providing these premium features at such pricing.
• Pre-installed Plugins: if you are using MilesWeb, you won't have to think about the essential plugins. Those are pre-installed, and you can focus on the advanced you require.
• Isolated Account: Don't worry about other users hosted on the server affecting your site or blog. Your site will be fully isolated from them.
• Automatic Updates: All the main components of the hosting and website will get updated to the latest version. This saves time as well as security.
• Backup: MilesWeb performs a daily backup. It is also incredibly easy to restore the data as and when required.
• Professional Themes: You can also choose from thousands of attractive and unique WP themes to make your site or blog stand out.
• Free website Migration: The Company will help you to migrate your sites from existing host to MilesWeb.
• Excellent Support: As stated, MilesWeb provides 24×7 support through all means of communication.


There are many other such features like support, pricing, etc. which makes MilesWeb ahead of many other hosting companies.
MilesWeb has their data centers located all across the different region. All these are highly secured and have been built with the latest hardware to keep your site fast enough and reliable. Here are some of their data centers-
• Atlanta, United States
• Brooklyn, United States
• London, UK
• Bucharest, Romania
• Nasik, India
Now let's see the different hosting packages available in this MilesWeb Review.
MilesWeb Hosting Packages: MilesWeb Review
Let's start with the very popular, WordPress hosting.
WordPress Hosting
MilesWeb offers a dedicated hosting plan for the WordPress blogs. The plan starts at $6.15 per month where you can host one domain with unlimited bandwidth.
Here are the detailed plans available with MilesWeb WordPress hosting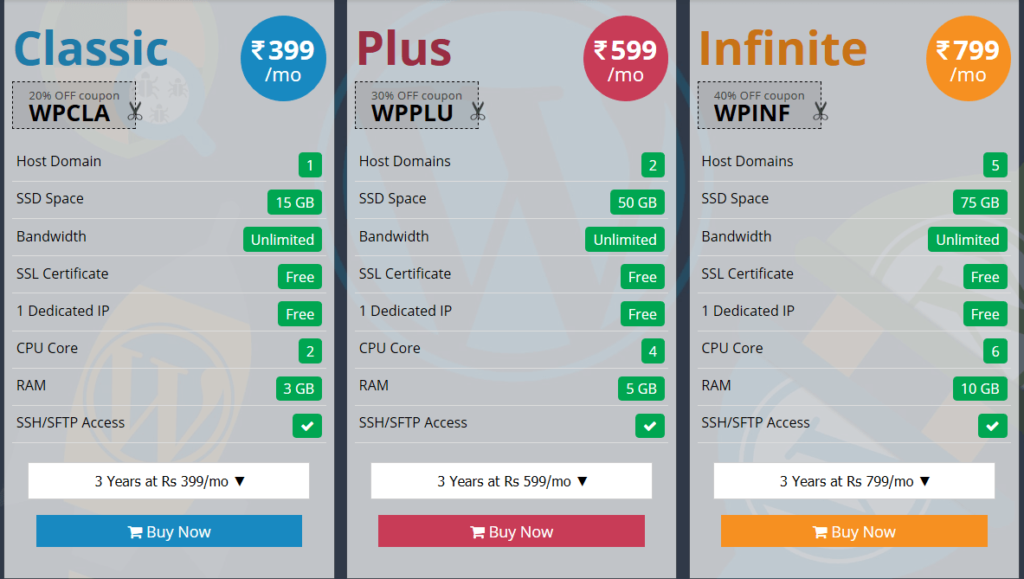 cPanel Hosting
cPanel hosting plans just start at Rs 109 per month which is one of the affordable service available. You will also get one.IN/.co.in domain for free and can host one website.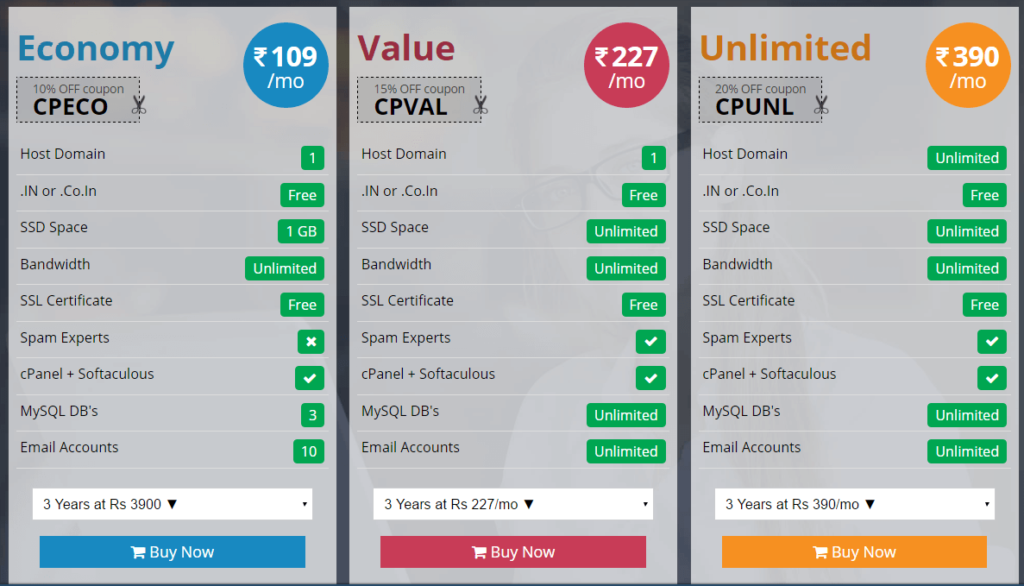 You will also get a free domain, SSL certificate, site builder, SSD storage, and many more goodies for free.
VPS Hosting
MilesWeb is also known for their cheap VPS hosting. If you are looking for a private server, you can find some good deals with MilesWeb.
There are different plans available with VPS, and you can select the one which will be beneficial for your website and business.
Mainly the pricing depends on the resources you are going to use like core, space, and bandwidth.
You can expect easy setup of website, quick load and better performance with the VPS hosting.
Dedicated Server
Depending on the data center and configuration, MilesWeb offers different products in a dedicated server.
For example, if you're looking for US data center, the pricing starts at $109 while for UK data center it starts at $99.
So if you are running a website with very high traffic or some serious business, you can go ahead and subscribe to the dedicated hosting plans as shown below.
With all the dedicated hosting plans, you will get multiple features like high-quality hardware, server security, customization, etc.
Conclusion
MilesWeb is one of the top hosting provider company in India providing wide ranges of hosting solution starting from the shared hosting to dedicated servers.
All these come at very competitive pricing with premium features. The support provided by the company is excellent, and you can expect a quick resolution.
Also, the free domain, SSL certificates, and free site migration services are something those add value to the users.
MilesWeb Review
Summary
MilesWeb is India's leading hosting providers. You can find cheap and reliable hosting at MilesWeb. Just connect with MilesWeb review and see how it will help you to make your website live and running hassle free.