When you're running a business, you know you already have a lot on your plate. Admit it; you have other things to do than to sit on your desk poring over slides. After all, setting aside your core tasks and competencies for administrative work, such as creating your presentations from scratch, is time-consuming and counterproductive. However, those slides must be done. Presentations are necessary for reports, marketing, and information dissemination within the organization as well as to potential customers and the general public.
So, one option for getting presentations done is to have someone else do the job for you. For example, you can hire a third-party provider to design and complete your presentation design and incorporate all the necessary data you wish to include in each slide. This has its share of downsides. Other people may not fully get your vision and therefore deliver something that's far from what you want. There's also the added costs in terms of time, money, and resources. And this is where templates come in handy.
Use High-Quality, Original Templates for PowerPoint
Templates are greatly helpful in business, particularly in making presentations. Presentations are required in business for financial reports, sales pitches, employee training, charting business growth, and so many other reasons. They are one of the primary tools of marketing and communication that many businesses use, and people are most familiar with.
Therefore, using Free PowerPoint templates has many benefits. You shouldn't use just any template, however. While there are many free PowerPoint templates, you have to make sure that they are high-quality and easily customizable to suit your specific needs. This is because while PowerPoint templates can serve as reliable blueprints, this doesn't mean your presentations have to look just like anybody else's.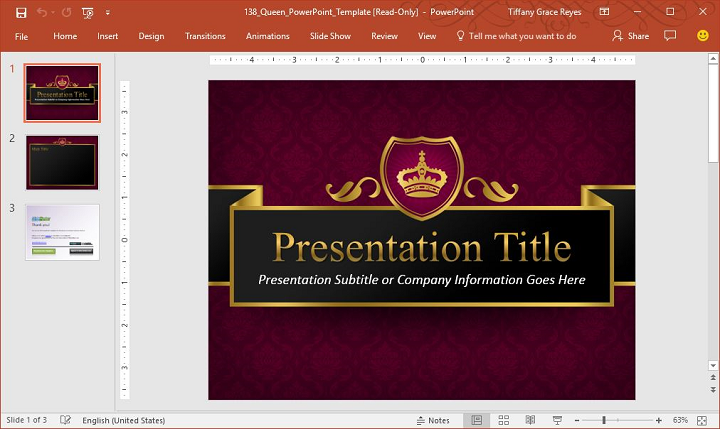 Your presentations have to look unique and brand-oriented, especially when it's about your company or organization. Therefore, you have to choose templates that allow you many ways to customize not just your content, but also the format, style, and design itself. Whether it's blurred PowerPoint backgrounds or a set of earth-toned color schemes, you have to be able to make the template yours and do so easily in PowerPoint. This means you don't have to be an expert in design or animation. Even as a beginner PowerPoint user, you should have confidence that you can navigate through the slides and easily modify it based on your needs.
SlideHunter Offers Best Free PowerPoint Templates- SlideHunter Review
For anyone looking for a free presentation template suitable for business slide decks, there's only one place to go SlideHunter.com. SlideHunter offers one of the largest collections of free, high-quality, professionally designed templates created for PowerPoint. With thousands of carefully curated, all-original templates, you will always have a template ready to use for all your presentation needs.
SlideHunter provides presentation templates not just for business, but for school and personal use as well. Either if you want to make a presentation for an HBase tutorial or a presentation for a development plan, you can sort through the large library easily, since the templates are all categorized based on theme, purpose, and design. For example, if you are a teacher looking for an easy template to use for world history class, you only need to look at education. Now, if you're looking for templates concerning business, there's a whole wide collection in the portal solely for those.
Whatever template you choose and for whatever purpose, you can be sure that your slideshow will always look amazing.
Free, Easily Customizable Template for PowerPoint
All the SlideHunter templates, while serving as blueprints for your presentations, are still fully customizable. Because they are created for PowerPoint, you can make the most of the application's features to format, modify, and edit the template regarding design and layout. Aside from that, many templates also come with their set of variants to give you more choices on the design you want.
Even if you're not a pro in PowerPoint, you don't have to worry. The templates also come with guides and instructions to help you get started on making the template yours. There are placeholders that help you organize your ideas and information. They also give you an idea how your presentation will look. Meanwhile, you can also just follow the tips on the Notes pane of some of the templates to help you understand how to replicate any of the template effects, such as animations within sample slides.
There are templates that are highly versatile for use in any presentation topic. They have different designs that range from abstract to geometric to realistic photographs taken by professionals.
You can get started on your own stunning and amazing presentations by going to SlideHunter. Go over the thousands of free PowerPoint templates available for download. These templates are great not just for business but for school and personal use. I hope you liked this SlideHunter review. Please consider it for sharing!
SlideHunter Review
Free PowerPoint Templates
Summary
SlideHunter is a free PowerPoint Template store where you can get stunning PowerPoint templates for free. Download the required templates as per your niche and create an impressive powerpoint presentation.