If we are talking about the SEO, analytics, and PPC for any website, Topvisor is not a new solution. You can find plenty of Topvisor review by webmasters.
Most of the webmaster praise Topvisor for its great SEO tool and pricing system. With the below figure, Topvisor has already made an impact in the online community.
• KEYWORDS- 38 232 262
• USERS- 104 681
• PROJECTS- 198 937
• PPC ADS-218 244
For a company started in 2015, the figure says the story of success. Search engines have changed a lot during recent years with algorithms and have started taking help of machine learning. With machine learning, they can provide better and more accurate result to the users.
Here in this article, we will discuss Topvisor review and how it is helpful for the webmaster. You will see some of the best Topvisor features and Topvisor pricing.
So let's start with the Topvisor review now!
Topvisor Review
Started in 2015, Topvisor is currently one of the leading SEO and PPC tools for the webmasters. With its different tools, webmasters can increase the organic traffic very well. With the help of technology-enabled platform, Topvisor provides a detailed analysis of website SEO. And then produces a result based on which webmasters can improve the SEO.
Here are the Topvisor tools those will help you in your SEO and PPC campaigns-
• Rank Tracker Tool
• Keyword Suggestions Tool
• Keyword Grouping Tool
• Keyword Research Tool
• Website SEO Audit Tool
• Website Watcher Tool
Now let's start with these tools. Let us show you how to use these Topvisor tools in this Topvisor Review.
But before accessing any Topvisor tools, you will have to sign up here. It is easy. You just need to enter your email id and company will send you the details.
Once you finish the registration part, you will be redirected to the Topvisor dashboard. Here company provides an initial credit of $1. You can use this amount for some preliminary testing.
You can add money to your account for further proceeding by visiting the add money link.
There are multiple options available using which you can top up your account. For example using Cards, PayPal, invoice, etc. You can also check the pricing before adding any money.
Topvisor Pricing Details
Here are the detailed Topvisor pricing plans available for you to select. Depending on the uses and users, you can choose from the available below plans.
As the pricing is associated with the applications and so you don't have to worry about the money added.
Once you have topped up your account, you can add the project to your account. The project is from the website which you want to audit. It may be your site or your competitors' site.
Once done, it's time to explore the Topvisor tools in this Topvisor Review post.
Topvisor Rank Tracker Tool
Rank Tracker is a precious tool by Topvisor and in general also. You can track the ranking of your keywords in a search engine using this tool.
It is important to follow the ranking as it will help you to know the efforts required to reach #1. Also, it is advisable to add few of your competitors' site also who are ranking for your targeted keywords.
You can click on the keywords icon shown in the above image and then add the keywords. These keywords will be used to monitor the ranking.
The box shown at the top can be used for further customization. This customization may be the search engine, keywords research, or the location, etc.
Once keywords added, you can get their search volumes or find rankings. You can also add 4-5 sites and then compare the ranking for better insight.
Topvisor Keyword Tools
Topvisor provides a number of tools for keyword like-
• Keyword research tool
• Keyword Suggestions Tool
• Keyword Grouping Tool
We will see each one in details here.
As we saw above, we can add as many keywords we want and can group as well.
Keyword Grouping Tool
Clustering is an incredibly powerful tool to get an overall keyword structure for every page of your site. Grouping is required to make your website work better regarding SEO.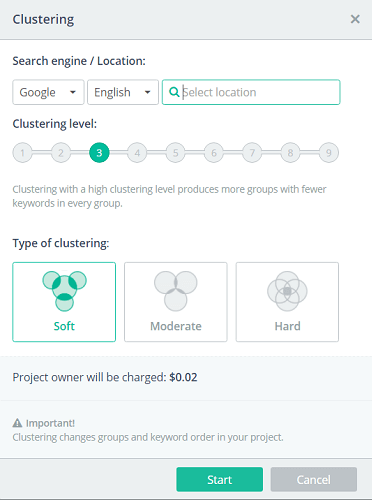 Also, as you can see for every step you perform, the tool will show you the amount of money charged.
Keyword suggestion tool
This tool can be used to perform the keyword research which is the first step of SEO.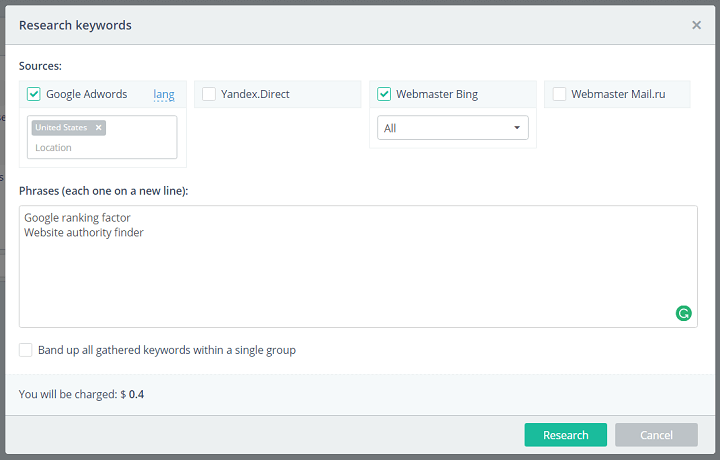 You can put the phrases you want and then select the keyword research tool. If you are targeting the location, you can choose the location as well.
Once all settings are done, just click on the research button. The tool will start showing the magic and will display results for the below screen.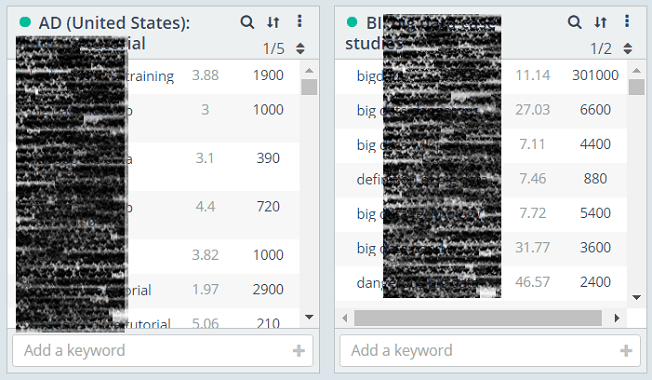 You can also export and import the keywords as per your need. Now let's move to the auditing part of the tool.
Topvisor Website Auditing Tool
Using website auditing tool, you will be able to find the health report of the site. For better optimization, add the URLs for which you want to check the story.
Once done, click on start scanning and in few moments, the tool will display the result. You can also select the option to get this report on your email id. Uses of these tools come at some cost which will be shown while initiating the job.
Depending on the shared result, you can work on the error and warning parts.
There are many other tools like-
Sitemap generator: You can generate the detailed sitemap using this tool and submit it to Google Webmaster tool for indexing. Here you have the option to select the number of pages to be included.
Index Status: You can add pages and then see their indexing status. The status can be considered in major search engines like Google, Bing, etc.
Website Watcher: This will analyze the title tag, H1 tag, description, etc. and will suggest you for any issue found. Based on the result you can work further.
Conclusion
Topvisor is one of the top SEO tool currently available. With the flexible and uses based pricing model, this is getting popular in the community. They are also coming with the PPC Bid Manager tool to help the marketers.
Hope you liked this Topvisor review post and got how to use Topvisor better. You can also use Topvisor chrome extension and URL shortened for quick help.