For a blogger and advertiser, it is always difficult to decide with which advertising network they should go. In this TrafficJunky Review, we will be talking about whether you should go ahead with TrafficJunky or not.
There are hundreds of advertising networks available for both advertisers and publishers but all are not legit. There are networks who closes their door quite frequently and advertisers and publishers, losses their money.
Although still AdSense, Media.Net, etc. are the top choices for publishers but still, there are thousands of publishers who look for an alternative. The same is the case with advertisers. They too look for an alternative to networks like AdWords, Bing, etc.
Recently, we came across a network, TrafficJunky which serves both advertisers and publishers. Very soon they have established a brand in the online market.
In this TrafficJunky Review, we will discuss all the aspect of the network. Also, we will discuss is it beneficial to join the network here in this TrafficJunky review.
TrafficJunky Review
Let's start with the review of TrafficJunky and see their USPs for both advertisers and publishers.
About the company
TrafficJunky is the leading adult online Ad Network that offers Advertisers large volumes of the quality web, mobile and tablet traffic & helps Publishers maximize their online inventory revenue.
This Montreal, Canada-based company started their journey in 2008 and since then serving the online ad marketplace. TrafficJunky's mission is to improve the performance of your company and product(s) with each internet marketing ad campaign.
TrafficJunky currently serves over 2.2 Billion daily ad impressions from around 140 million visits. They have some of the top adult sites onboard who draws such a huge amount of traffic.
The company majorly focuses on Entertainment, Health and Beauty, Sexual Wellness, Adult Dating and Adult Paysites, and several other industries.
Here are some of the stunning stats of TrafficJunky-
• 65.5 Million Daily Desktop visitors accounting for 481 Million daily page views.
• 41.2 Million Daily Mobile visitors accounting for 285 Million daily page views.
• 12.2 Million Daily Tablet visitors accounting for 70 Million daily page views.
TrafficJunky for Advertisers
TrafficJunky's self-serve interface, advanced targeting options, CPM-bidding platform, and highly-trafficked Publisher sites are a winning combination that will help you run a successful marketing campaign for your online e-commerce business.
Your business will be displayed on over 25 premium websites and over 200 high-quality websites leaving millions of impressions.

Start with the campaigns: To get started with the campaigns, you can follow the following steps. All the steps are simple and straight-forward.
Define Campaign: Set the name, target group, device and daily budget for your campaign. Define your audience by targeting a niche market with our keyword selection feature.
Upload your Graphics: You can now upload the banners/images to attach to your campaign. You can upload the banners of sizes depending on the ad you're going to target.
Select a Site& Placement: You will now choose the website where you want your ad to display along with the locations like header, below title, etc.
Check ROI: Start seeing clicks, leads, and sales coming to your site. Analyze your stats and optimize to get better results.
Here are some of the features of the advertiser's account-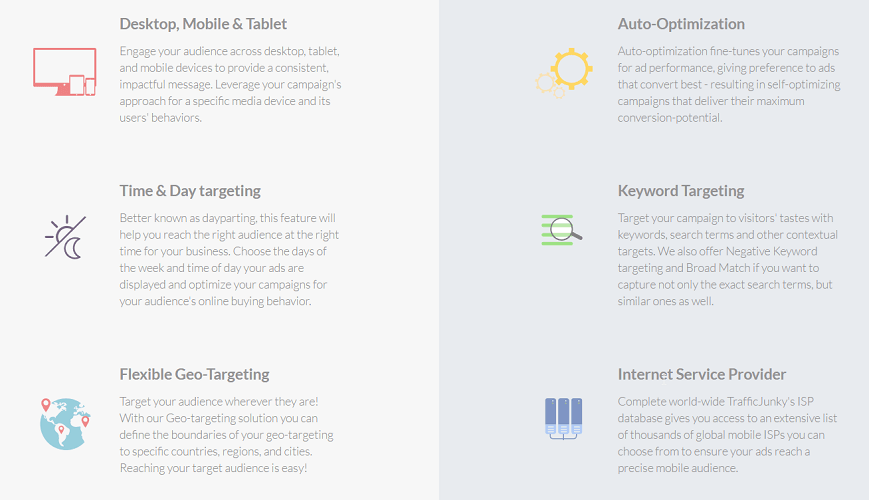 They accept almost all the major payment methods including PayPal, Cards, etc.
TrafficJunky for Publisher
If you want to monetize your website using the ads served by the advertisers of TrafficJunky, you can apply for a publisher account. Here is the simple 3-step method to get started with publisher account.

Ad Spot: You can monetize all your ad spaces or selected with the TrafficJunky's ads. They provide the ad format for almost all the
Stats & Revenue: From the publisher dashboard, you can directly see the stats of your ads and the amount you are earning.
Real Monetization Solutions for Real Business Needs: TrafficJunky supports Publishers from all verticals and offers a vast variety of
effective ad formats in all popular sizes. Join our global Ad Network with powerful buyers from all around the world and start meeting your earning expectations.
There is no minimum traffic requirement to join the network as a publisher but there are some limitations for contents. Alcohol, drugs, extreme violence, abuse & rape; weapons & ammunition, hacking/cracking, incentive ads, incentive ads, bots used to generate artificial impressions or clicks, incomplete websites or under construction, any illegal content websites are not accepted in the network.
Ad Types
Conclusion
TrafficJunky is one of the leading adult advertising networks. If you are also looking to reach to your targeted users in this segment, TrafficJunky can be your ideal destination.
We hope this TrafficJunky Review showed the network clearly and you got enough understanding about the network. Let us know for any questions.