Higher education is necessary for everyone as it opens the door for many opportunities. But in recent times we have seen a lot of problems around it, especially in terms of finance. College fees are increasing as never seen before. This has further increased the pressure on the students, parents, and the government to accommodate all those students.
It's not like the education costs were the same all time. We have seen a traffic increase in it in recent times.
As per the report of Value Penguin, below are the trend of average higher education cost in the United States-
So, as you can see this cost is increasing YoY.
More Students — More Money
As per the report of Bloomberg, the cost of higher education in the USA has increased by 538% since 1985.
As you can see in the above image, the cost has increased for all the education sectors like medical, gasoline, shelter, and consumer price.
There has been a 286% increase in medical costs in the 28-years period. Also, the consumer price index has seen a surge of 121%. So, in the US, higher education is 4.5 times costlier than what it was 28 years ago. But it's not like only higher education costs have grown but the salary after the education and other parameters as well. We will talk about it later in this post.
Average fees at US universities
As per the report by collegeboard.org, below is the average cost of tuition fee in the US colleges from 1990 to 2020-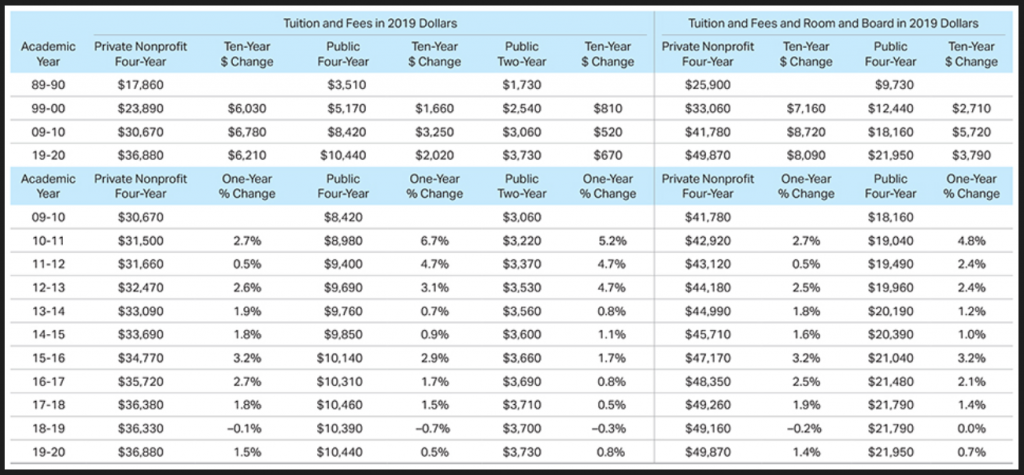 So, on an average for a 4-years of college, you need to spend somewhere around $50k.
Calculate your education Funding
If you are planning to attend a college in the USA, it's a good idea to calculate the education funding which will help you make your finance better. There are many education saving calculators which you can use. This calculator has been brought by Pigly and is one of the trusted places for calculations.
Follow the link shared above and you will get a form like below-
Enter the details depending on your status and the kind of college you are looking to attend. I am calculating it for a private 4-year on campus program. Now click on the calculate button to get the details.
This result has given me the savings gap for education and it is showing $110k. And it also suggests I make a monthly deposit of $1631 to achieve my education cost.
Other Education Expenses
So far, we have talked about the tuition fee of the colleges but there are many other expenses involved like hostel, books, mess, and more. Here are some of the other costs involved here-
Textbooks- You may need to spend on textbooks and other stationeries. It is expected that you will send around $153 per course.
Hostel- You need to spend on your hostel and foods as well. And this cost varies depending on the colleges and locations.
Other expenses- This may include the day-to-day living expenses which can be another big factor.
Conclusion
This was all about understanding the rising higher education cost in the USA. As you can see almost all the part of the college expenses have been increased multiple folds.
There are many reasons for such a huge surge in pricing like increasing inflation which has increased the cost of everything.  You can do a similar kind of analysis for other fields like consumer products. You can check more details here.
Are you planning to attend college next year? Let me know how you're planning the financials.