Have you come across a situation where your stakeholders have asked you to make a minor change in the PDF file?
Usually we do!
But then how hard was it for you to make the asked change?
Well, the problem comes when you don't have the source file which was used to create the PDF file. Yes, in that case, it becomes very difficult to make those minor changes.
If you are looking for an ultimate solution to this problem is by using a PDF editor tool. And in this post, we are going to talk about the same. You will see some of the best PDF editor tools that you can use to create, edit, and manage PDF files.
Here we have tried to cover almost all the top PDF management tools which can help you manage the PDF files.
Features of PDF Editor Tools
While selecting the best PDF editor tools, we focused on some of the features  a PDF management software must have. Here is the list-
Can be used for signing contract or employee offers
filling in forms- education, marketing, HR, technology, medical, banking, more
Adding annotations for better tracking and collaborations
Combining different documents into a single file
Splitting a PDF into separate PDF files
Converting PDF files into other file formats
Digitizing hard copies of documents without retyping
Based on the above features, we have collected the below top PDF editors which you can use for personal purposes and for enterprise use as well.
Best PDF Editor Tools – Online and Download
Here are the top PDF management tools that you can use. Some of these tools are like a SaaS application. That means you can use it online while others allow you to download the tool and work remotely as well. Depending on your requirements, you can select any of the below.
Apart from the above features, we have also considered the below parameters as-
Security
Pricing & License
Compatibility
Ease of use
#1 PDFelement by Wondershare
The #1 in our list is PDFelement by Wondershare which is an entire PDF management software. It can be your one point destination for all kinds of PDF work like edit, update, and create for both windows and MAC, iOS, and Android operating systems.
The tool is available globally in 9 different languages. You can consider PDFelement as one of the best Adobe Acrobat alternatives. With PDFelement you can edit the PDF, make comments on it, create forms, and protect your document in the easiest possible manner.
Features of PDFelement
PDFelement possesses many features that make it the #1 PDF management tool in the niche. With recent upgrades, PDFelement users can now also experience better process speed, conversion quality, OCR updates, and many other enhancements during your valid subscription period. Here are some of the other features of PDFelement-
Create, convert, edit, collaborate, comment, e-sign PDF
Extract text from the image
Extract text from pdf image
Create a form in PDF and make it editable
Combine and split PDF pages
With OCR, you can extract part of the text from an image instead of the whole article
Platform: Windows, MAC, and Mobile App
Pricing: Starts at $6.99 per month (free trial available)
#2 Adobe Acrobat Pro
Yes, the official creator of the PDF also provides this feature in their pro version. Adobe provides a complete PDF productivity solution. It starts with creating a PDF, signing it, sharing features, editing it, converting, and finally exporting it as PDF in one go. You can do this either using your system or you can do it on a mobile phone as well using the Adobe app.
You will be able to create the PDF from any file like Microsoft Word, Web pages, and more. You can also edit and modify in the PDF itself without converting to word or other formats, collect e-signatures, and get instant feedback as well.
Platforms: Windows, mobile app, and MAC
Pricing: Starts at $12 per month (7 days of free trial available)
#3 PhantomPDF by Foxit Software
The third in our list is PhantomPDF which almost does the similar thing what the above two do. It has got a powerful editor using which you can design the PDF and also can change the layout and the elements on it. The tool also allows you to add stamps, watermarks, headers, footers, Bates numbers, etc. Further manipulation can be done in PDF files as to crop, delete, add, swap, flatten, and rotate PDF pages.
Platform: MAC and Windows
Pricing: Starts at $89 as one time fee (free trial available)
#4 Nitro
Nitro is another top PDF editor software which can be used for PDF editing and unlimited e-signing. It lets you edit, create, and fill out the form in PDF. Like any other PDF editing tool, Nitro is also helping you convert any kind of file to PDF, edit it, and share it with others. You can combine the documents in one PDF and also split it as per the need. Further Nitro can be used for sharing and signing the PDF files as well. You can also use Sodapdf esign to E-sign documents for free.
Platform: Windows and Nitro signs will work in Browser, no MAC
Pricing: Starts at $159/user (free trial available)
#5 Sejda
The next in our list of best PDF editor tools are Sejda which is just not allowing you to convert other file formats to PDF but more. You can convert PDF files to images and more as well. It's a professional tool which helps you with all kinds of PDF tasks. You can edit the PDF file, merge it, delete a few pages, compress the file, extract the pages, and split it as you need. You can either use Sejda using your browser or download their OS specific software which is available for all the major OS.
Platform: Browser, Windows, Linux, and MAC
Pricing: $5.25 per month and will be billed annually where you will have access to both web and desktop (free version with some limitation also available)
#6 Xodo
If you're more mobile friendly then Xodo is there for you. It's another tool to edit, annotate, sign, and share PDFs on desktop, mobile, and web. It makes working and managing the PDF files easy and on the go. With the help of Xodo, you can merge the PDF files, insert, delete, reorder, and rotate pages, access the created PDF files on Google drive, collaborate with others online, and more. You can also collaborate with others without signing in just by using the link of it.
Platform: Android, Browser, Windows, Web App, iPhone, iPad, Tablet
Pricing: It is free for personal use. For commercial use, licensing is being done by other company PDFtron.
#7 SmallPDF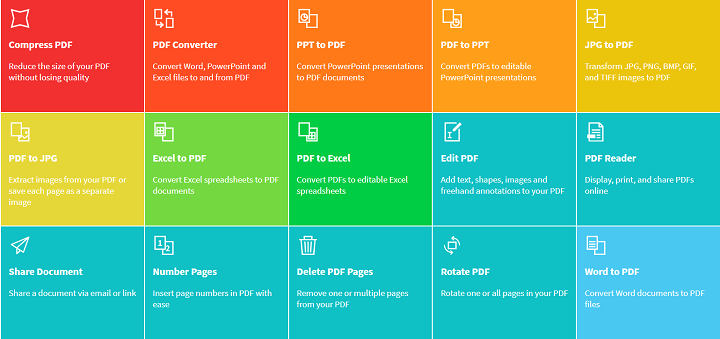 SmallPDF is an all-in-one easy to use PDF tool which can be accessed online. You can install SmallPDF's chrome extension and get started. Else you can also use SmallPDF in the browser and can start working on it. There are many tools available in the libraries like PDF compressor, PDF to PPT, Editing the PDF, PDF to image and vice versa, and many such tools to work on the PDF.
Platform: Browser, Chrome Extension, iOS, Android, MAC, Windows, G Suite App, Dropbox app
Pricing: $6 per user (free trial available but you will need to add credit card)
#8 CloudConvert
CloudConvert is not a dedicated PDF editing tool, instead it converts the PDF to Word file where you can make the changes and convert Word to PDF back. It is an online file converter which majorly supports 200+ file formats like video, audio, PDF, image, eBooks, and more.
Platform: Browser
Pricing: $8 for 500 conversion minutes (free uses available)
#9 Preview by Apple
Yes, this is the hidden gem of MAC where you can edit the PDF and images as well. It helps you to mark up and sign PDFs, edit images, and more. All you have to do is, just double click on the PDF file and it will open in the preview. And then you can resize it, change the alignment, tweak brightness and more with its editing tools.
Platform: MAC
Pricing: Free with macOS
#10 AbleWorld – Free & Best PDF Edtor Tools
Looking for a complete free PDF management software?
AbleWorld is there for you. AbleWord is a tool processing application that can read and write most popular document formats including PDFs. With the help of AbleWorld, you can format the image, table, header & footer, spell check, print preview, and more. The best thing about AbleWorld is, it's even free for commercial uses. As of now, AbleWorld supports the following file formats- doc, Docx, pdf, RTF, txt, htm, and HTML. Although this tool is not advanced and may not fulfill all your PDF requirements for basic uses, it may be used. Also, the tool was updated Wayback in 2015 when v3.0 launched.
Platform: Windows
Pricing: Completely free
Conclusion
These were some of the best PDF editing tools which you can use with a browser, mobile app, desktop, and as a browser extension as well. We have mentioned both free and paid tools here and so depending on your requirement you can select the one.
For more such tools, please check our tools category. You can also find more about this here.