Adsterra is one of the leading advertising networks for both advertisers and publishers started in 2013. In this Adsterra Review, we will be talking about the different aspect of the network and how to use.
Although there are many ad networks which publishers and advertisers use but all don't suit everyone's need. So, if you are also the one who is looking for some other advertising network for their next campaign then Adsterra is for you.
They are very trusted network and provides over 25 Billion impressions per month. So, in just around 7 years of the period, they have grown exponentially.
Adsterra Review
Here we will be talking about the different features of Adsterra ad network, dedicated benefits for advertisers and publishers and many others.
Let's start with the introduction about the company in Adsterra Review.
Introduction
Adsterra is a premium advertising network for both advertisers and publishers. Advertisers look for the traffic shared by the network and they get the best result.
While the publisher monetizes their traffic with Adsterra as they provide one of the best rates. Currently, Adsterra delivers over 10 Billion impressions every month from 248 different geographic location.
So far, they have delivered over 100k successful campaigns. The traffic shared by Adsterra is highly convertible.
Within the very short span of time, Adsterra has grown exponentially and is one of the leading ad networks currently.
Let's explore further about the advertising network in the coming sections of Adsterra review.
Adsterra for publishers
The company delivers over 25 billion impressions ever month. This is due to their quality publishers and so they take care of their publishers as well. Here are the traffic details from different ads-
Traffic for Popunder: 1.3+ Billion per week
Traffic for Web Push: 2+ Billion per week
Traffic for Native: 1+ Billion per week
Above is the simple three-step process to get started with Adsterra for publishers. Just signup to the network, generate and place the ad code on your site and done. As soon as you will start getting clicks, you will start generating the money.
Here are some of the dedicated features for publishers by the network-
Highest CPM Rates: Adsterra is known for their competitive rates for the publishers. So, if you're the one who is looking to make some good amount of money from the existing traffic then you should join Adsterra.
100% Fill Rate: You won't have to worry about the ads. They have a large number of advertisers and so you can expect 100% fill rate for sure.
Safe Ads: Adsterra offers maximum security and protection against common malware and bad ads through our in-house and third party fraud detection system.
Multiple Ads Formats: We will discuss this later in this Adsterra review. They have multiple ad formats and covers both mobile as well as desktop traffic.
Timely Payment: Receive your payments with NET15 hold policy easy and always on time via a great range of withdrawal options.
Here are some of the updated features for the publishers-
We have no restrictions on the traffic of the websites. We have changed our policy about traffic volumes, and now we accept even small websites to our Network. Your website traffic volumes don't matter: we will help you grow with us. What matters for approving your website at Adsterra Network is your traffic quality.
You can start monetization on the day of registration.
Lifetime referral program. Each partner who joined Adsterra via your referral link will add 5% of their profit to your income. Forever.
Adsterra ad servers are located all over the world to provide 24/7 up time for smooth and fast ad delivery.
User-friendly system: you can easily implement our ad code into your website within minutes.
The available payment options are Bitcoin, Paxum, PayPal, Webmoney, and WireTransfer (constantly expanding)
Minimum payouts are really low: only $5 for Webmoney and Paxum
Adsterra for Advertisers
Similar to the publishers, Adsterra also pays deep attention to their advertisers. Here are some of the features for advertisers.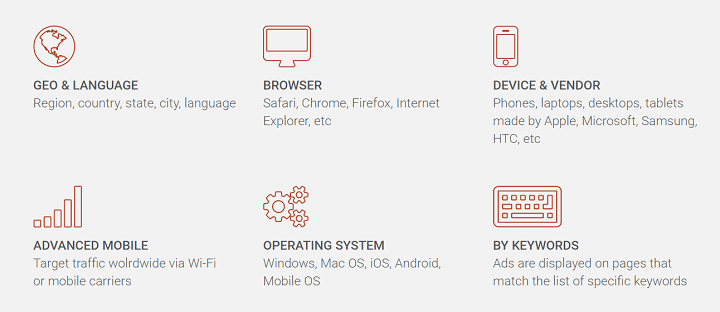 Pay for Performance: Meet your campaign objectives by reaching the right user with the most suitable payment model: CPM, CPA, CPL, CPO, CPI (PPI). With our high-quality traffic, you will get more impressions, leads, conversions and sales.
Advanced Optimization: If you are looking for micro-optimization then this feature is for you. You can further optimize your campaigns based on the following parameters- Budget, Frequency, Time, Bid, and many others.
Ad Retargeting
This is one of the best features I liked with Adsterra. As you know hardly any first-time traffic gets converted the first time and so there is a strong need for retargeting. Adsterra provides this amazing features to all their advertisers.
Here is the simple working mechanism for retargeting-
Ad Formats
Adsterra provides separate ad formats for both mobile and desktop traffic. Below are the available sizing and the relevancy of those.
If you have header space available after the logo, you can try for the leader board. This is mainly for the brand awareness as this ad doesn't get many clicks.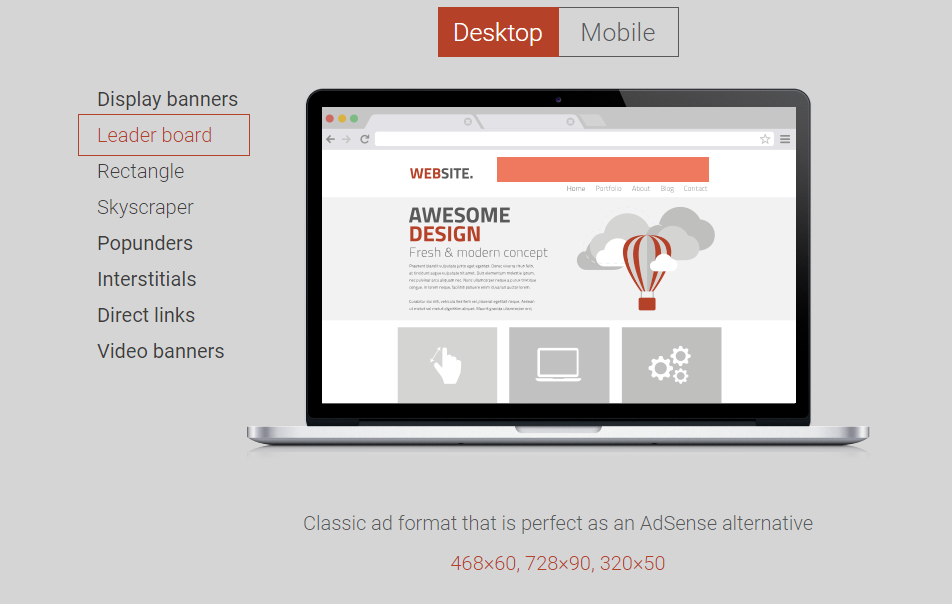 To get maximum clicks you can try rectangle ads below post title or above fold on your web page. The company also offers to retarget with pop-under ads which work best. So, depending on your traffic and nature of the website, you can choose the ad you should place.
Leaderboard: It is usually of size 728*90 and you can place such ads after logo in the header part for more visibility.
Rectangle: Best to be put after the post title and converts well.
Skyscraper: It is mainly for the sidebar as a long ad banner.
Pop-Unders: Appear hidden behind the main browser window and remain unnoticed until the main window is closed or minimized.
Here are some of the other features for the advertisers-
The minimum deposit for advertisers is only $100
Adsterra invests in long-term relationships with publishers to produce stable growing traffic flow at reasonable rates. This can drastically ease whitelist optimization for advertisers
We take serious measures to detect, prevent, and fight fraud and scam.
All the payment models are available: CPM, CPC, CPA, CPI, CPS
Adsterra Referral Program
You can also earn from the Adsterra referral program. They provide 5% commission of the money earned by your referee for a lifetime. Here are some of the common ways using which you can publicize your affiliate link.
Support
You can connect with the Adsterra team 24×7 through emails and Skype. You can also check their resource and FAQ section for quick help.
I was expecting a chat option but didn't find that. Although Skype support is quite good.
Conclusion
Adsterra is one of the leading ad network connecting both the advertisers and publishers. Advertisers get quality traffic and great conversion while publishers can earn some decent amount of money for the same amount of traffic.
The micro-optimization, retargeting and a dedicated manager is something we liked a lot with Adsterra. If you're also looking for a technology-enabled platform for your next ad campaign, Adsterra can be one of the best destination.
Adsterra Review
Summary
Adsterra is one of the leading advertising networks for both advertisers and publishers. With over 10 Billion impression per month, they are the leading and promising ad networks delivering the best of money invested.