Have you ever thought 'if I don't ask someone to write my essay for me, I won't get even a B '? These doubts usually come from insufficient writing skills. Sometimes, it's not even about ideas but mainly about grammar and spelling that pose an issue.
If you are looking for the best online grammar checker tools, then this post is for you. here we are going to talk about 5 handpicked proofreading tools using which you can write error-free content.
I have personally used most of this software listed here and can tell you these are the best in the industry. some of these best online grammar checker tools are free while others are premium, but you will get a free trial for all of these premium tools.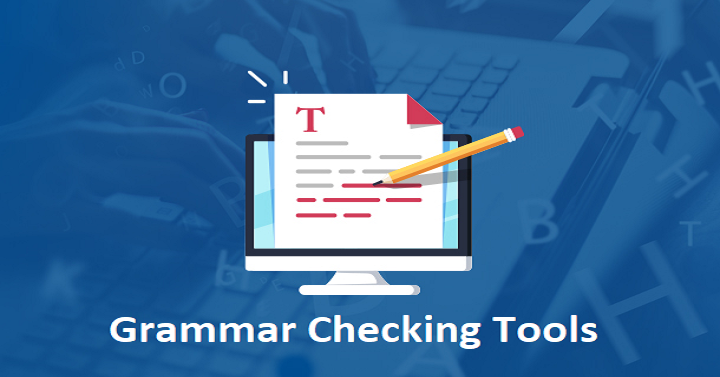 Best Online Grammar Checker Tools
let's start and look for some of the best tools you can use to write error-free content. I have selected these tools based upon various parameter including-
let's get it started and find out which is the best online grammar checker software for you-
#1 Writer.com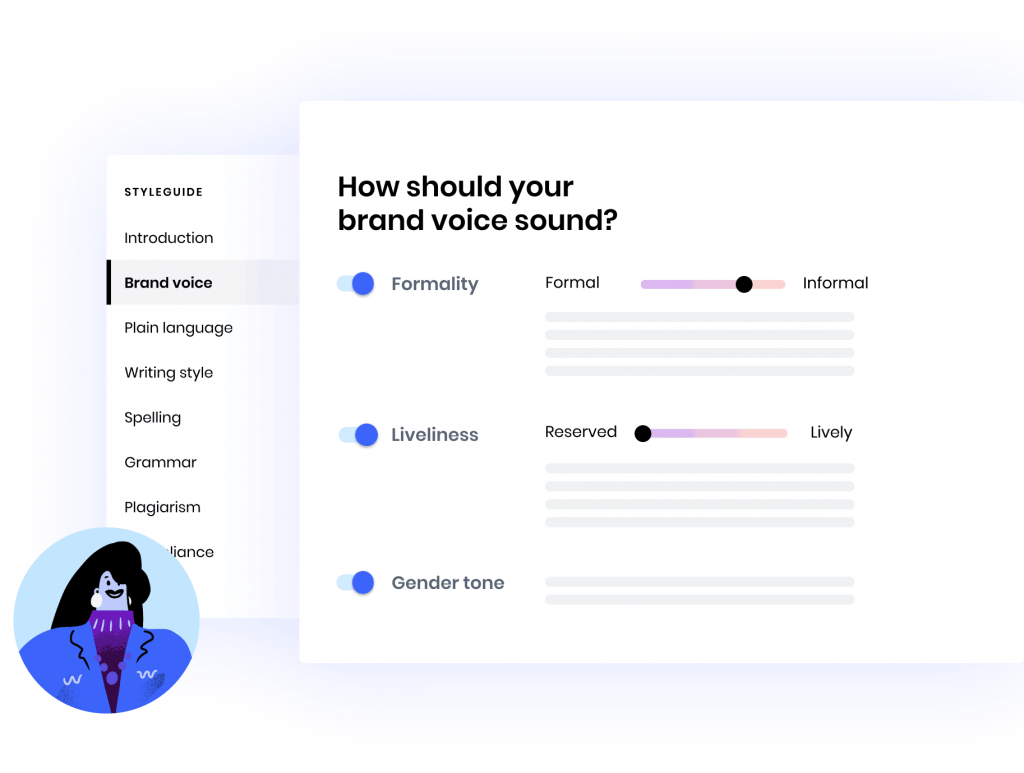 Writer is a comparatively new online grammar checker tool. recently they have renamed as well and is one of the best business writing tools. with the writer, you can write error-free content on the edge ensuring all the standards of your organization. the best thing about writer.com is, you can even personalize its library.
Many businesses are using the service of the writer to write in a single tone. It corrects your grammar, makes the sentence better, and increase the readability. One of the major problems in the organization is, everyone writes in their own tone. but with the writer, you can be consistent no matter who is talking.
The recommendation of the Writer is based on your phone brand voice technologies and right in the most consistent way across your organization. you can define a template here which will be used throughout your organization. for vocabulary and readability to grammar and spelling, the Writer gives you original content corrections that will improve the writing across your organization.
Writer.com is available for-
Google Chrome
Google Docs
Microsoft Word
emails and other writing products
How much does Writer.com cost?
The writer offers 14 days of free trial in which you can try its feature and if you are satisfied with the performance you can go for the paid plans. the starter plans start with $11/month. as I said earlier writer is an AI-based online business grammar checker software and so it also allows enterprise pricing. you can connect with them for the enterprise and custom pricing. if you are subscribing for the yearly plan you will get 15% off.
#2 Grammarly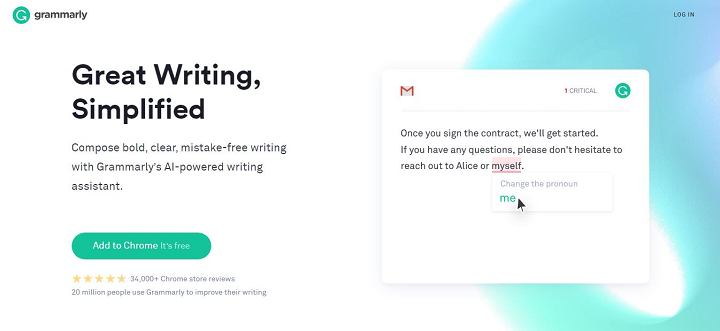 The second in our list is grammerly.com. Grammarly is a writing assistant that not only corrects show grammar but gives you 360-degree feedback on your writing. Using the Grammarly weekly report you will be able to understand how you are making an improvement in the writing.
You can use Grammarly as a tool to proofread your content, check for the grammatical errors, spelling mistakes, and more in blog posts, social media updates, emails, articles, and almost everywhere you write. I have personally used Grammarly for more than four years now and even the free edition is good for the basic writers.
What are the features of Grammarly
It Checks your writing across the web and helps you correct it while writing the content itself
With Grammarly, you will be able to compose bold, clear, error-free writing. in this journey, Grammarly's AI-powered writing assistant will help you.
It allows you to check the tone of your content. using a grammar Lee stone detector, you can check the tone of your message before you hit send. Currently, it gives you tones like formal, friendly, and optimistic.
Grammarly checks for punctuation, spelling, formality, vocabulary, and help you eliminate any such kind of errors.
Grammarly is available for
It is available as a Google Chrome extension and so whatever you write in Google Chrome, Grammarly will correct those content
Google Docs
Microsoft Word
Slack
Jira
Salesforce and everywhere else which you right in the browser
Grammarly also has a desktop app For Windows and Mac
Recently Grammarly has launched its Grammarly keyboard which works well with Android and iOS devices
How much does Grammarly premium cost?
the basic version of Grammarly is free well you won't get a lot of features but for the beginner's it works well. Grammarly premium offers three plans-
The monthly subscription cost $29.95 per month
The quarterly subscription cost $19.98 per month and will be billed as one payment of $59.95
The annual subscription cost $11.66 per month and will be billed as one payment of $139.95.
#3 Ginger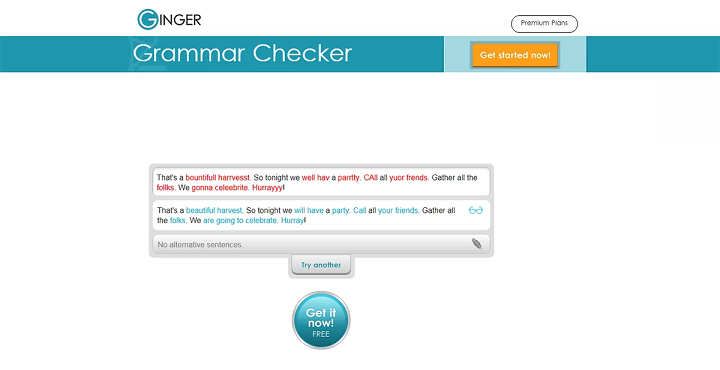 Ginger is being considered as one of the best Grammarly alternatives. it is also one of the best online grammar checker tools since 2007. Started in Israel, ginger had established themselves as one of the best grammars and spelling checker tool in the market.
It offers you to write better and faster with their amazing tools that are available For Google Chrome, words, and many other platforms. did not make sure everything you write is error-free no matter where you are writing.
The best thing with ginger is you don't have to wait for the entire content to be written and then correct the grammar. it corrects your text as you type making it easy for you and time-efficient. it also helps you increase and improve your writing skill.
What are the features of Ginger?
Help you write the content without any mistake with full confidence
Correct your grammar, punctuation, sentence structure, writing style as you type
It helps you improve your writing skills for business, emails, assignments, Or maybe social media updates
It also helps you increase your productivity by checking the advanced stuff like translation, definition, contextual synonyms, a sentence rephraser
Giner is available for-
Google Chrome
It allows tools like slack which provides the apps for Windows and iOS
You can use a keyboard for Android or paste extracts of your text into their web app
How much does ginger software cost?
Ginger is available for free as well with the basic functionalities. for the premium plans, ginger offers you three ways to buy it-
The ginger monthly subscription cost $ 29.964 per month
Quarterly subscription of ginger cost $19.98 per month and will be billed for the entire quarter at once
The annual subscription of ginger costs $12.48 per month and will we build once a year.
#4 Whitesmoke
The 4th in our list of best online grammar checker tools is Whitesmoke. It started its operation in 2002 with its affordable grammar checker tool for MAC and Windows.
The online grammar checker tool helps you write the perfect English on any platform. Whitesmoke not only checks your grammar but also spelling mistakes, and styles of write which makes your content effective. In 2020, they have revamped their products and have included many more features. It now detects hundreds of hidden errors which improves your writing.
Recently, Whitesmoke has improved their layout and UI which has proven to increase the efficiency.
What are the features of Whitesmoke?
Now includes plagiarism checker, Spell-checker, style checker, punctuation checker, and translator as well with grammar checker
It is available for all the major platforms and so you can now write on any platforms
Whitesmoke uses Natural Language Processing (NLP) techniques for text analysis which makes the recommendation better.
Whitesmoke is available for-
All Browsers
Windows and MAC OS
MS office
Gmail
How much does Whitesmoke cost?
Whitesmoke offers 1 year & 3-year pricing plans and definitely a 3-year plan is cheap. Below are the three plans Whitesmoke offers in the premium segment-
Web: It costs $5 per month and will be billed for $59.95 as a one-time yearly fee. It is an online writing solution for any operating system and browsers.
Premium: It is a fully integrated writing solution plan for windows and MAC and so you can use any OS and any browser. It comes at $6.66 per month and will be billed for $75.95 once a year.
Business: The features will be the same as Premium but also applicable for 3 licenses. It comes at $11.50 per month and will be billed one-time for $137.95 for one year.
#5 ProWritingAid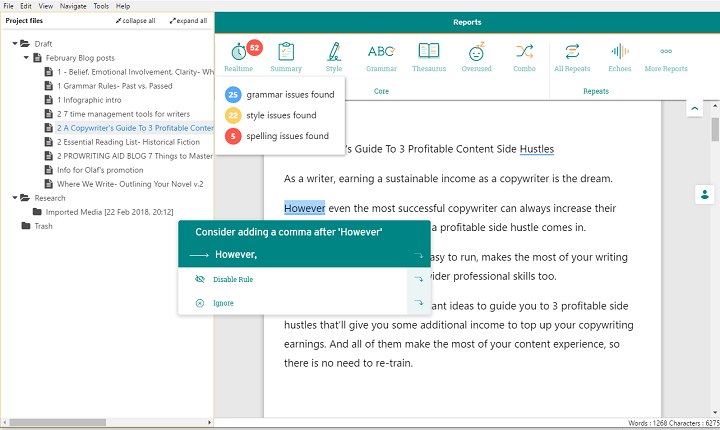 ProWritingAid is another leading online grammar checker tool that started in 2012 from London, UK. It's a great tool for grammar checking, style editing, and your virtual mentor for writing. ProWritingAid's web editor is pretty user-friendly and when you paste your content, it keeps the source formatting. It also includes the text color and font family and size.
This grammar checker tool underlines the grammatical mistakes, spelling mistakes, and various other types of errors. There is another unique feature called echoes which identifies the places where you may have overused phrases and words.
What are the features of ProWritingAid?
Here are some of the amazing features by ProWritingAid-
With ProWritingAid, you will be able to edit your document faster with 1000s of style improvements.
It fixes the style issue in your content which removes any kind of awkward issues from the content.
Removes any kind of grammatical error, punctuation issues, spelling, and more.
It suggests the right word to make your content perfect and later you can add that word in your personalized dictionary as well.
ProWritingAid also helps you improve your writing as it gives the description of each error.
Complained about security & privacy standards
ProWritingAid is available for:
Microsoft Word
Windows desktop app
MAC
Google Chrome
Google Docs
Mozila Firefox
How much does ProWritingAid cost?
ProWritingAid offers a free plan which you can use as the basic user where you can check the grammar for 500 words at a time. For all the features, you can subscribe for any of the below two plans-
ProWritingAid Premium: It costs $59.3 per year and includes all features except the plagiarism checker
ProWritingAid Premium+: It costs $66.8 per year which has all the features including 50 plagiarism checkers per year.
Which is the best grammar checker tool?
We have come to the end of the article where we discussed 5 best online grammar checker tools. All of the above are the leading tools and you can go with any of these.
You may try these online spelling checker software and look for the best as per your requirements.