Hosting is the backbone of any website and is among the few important factors one should consider while starting a website. If you're starting with any online venture, domain name, hosting, themes, niches are few aspects one should look for.
There are many hosting companies and almost every company claim to be the #1. But if you are going to select the best hosting, you should focus on multiple factors. At HdfsTutorial also we have reviewed many hosting companies and today we will review another leading hosting.
But before going into detail, let's first check what one should look in a hosting company before buying a web hosting.
What should one look for a good web hosting?
Here are some important factors one should look at a new web hosting company to get the best-
It should be reliable
Should provide 24×7 support through all means of communication
Should have high uptime (at least around 99%)
Company should provide good security and high-class hardware and many more
So, as you know what all factors one should look at a website hosting company now it's time to start with the review of Hostinger. Here in this Hostinger Review, we will see the features, pricing and many other aspects of Hostinger.
Hosting Review
Hosting is one of the leading hosting company in the world. Also, Hostinger is one of the cheap website hosting available in the world. There are a wide-range of hosting product available with Hostinger which you can browse.
Started back in 2004 Hosting started their operation with an aim to provide hassle-free hosting with unlimited space and bandwidth. Currently, Hostinger has over 29 M users from 178+ different countries. The best thing is around 15k users are joining Hostinger every day.
Hosting Features
Here are some of the features of the web host Hostinger which will help you use the web host better.
#1. Strong uptime of 99.9%
Uptime is one of the most important factors and should look for on a website hosting. It ensures your website is up and running every time. The more uptime your hosting company provides, the better is for your online business.
If you'll look into the history of Hostinger host, either it was 100% of near to 100% which is really recommendable.
September average uptime: 100%
October average uptime: 99.98%
November average uptime: 99.99%
#2 Fast Web Hosting
Nowadays speed of a website is one of the important ranking factors in ranking in search engine. Also, for a better user experience, your website should be fast loading.
It has been seen that if a website is taking over 3 seconds to load, 40% of your user will leave your website and so you'll lose the business. Here is the history of the average website loading time using Hostinger.
September average speed: 506ms
October average speed: 478ms
November average speed: 445ms
Even with premium host plan, they are providing 3x speed and with a business plan, 5x speed.
#3 Excellent Customer Support
I personally believe you must look for the support while buying any website hosting. Also, you should look for both technical and business support.
Hostinger offers 24×7 support through various means like-
Live Chat
Knowledgebase articles
Ticket support
Although while my previous experience I had to wait for around 7 minutes before the chat agent joined but the resolution was quick.
#4 Money Back Guarantee
Hostinger accepts the payment through various methods like- Visa, PayPal, Mastercard, Discover, Bitcoin, Maestro, American Express, and JCB.
Also, if for some reason, you're not satisfied then you can ask for the money back. They offer the money back guarantee for 30-days from the date of billing with certain T&C.
#5 Free website builder and Domain name
This is another lucrative feature one should look for. When other website hosting company are charging a huge amount for the website builders, Hostinger offers this for free with every hosting.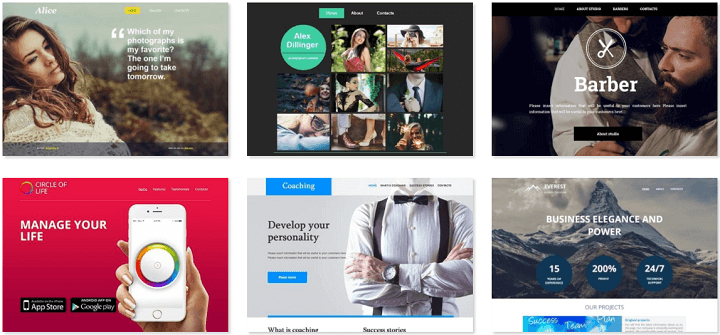 It is an excellent website builder and I found it something like Wix website builder. You just need to select the template which you like and then edit it as per your need.
Also, along with free website builder, they also offer a free domain with every premium and business hosting. But if you need more than a domain, you need to pay for that.
#6 Ease of use
Hostinger control panel is an IDE site which anyone can use. It is quite simple and effective interface where you'll find all the features and functions.
#7 Unlimited Features
With premium and business plans, you will get unlimited email accounts. You can create as many email accounts with the domain as you want.
Also, there are many other features with the emails like a spam filter and autoresponders. You'll also get unlimited space and bandwidth with the premium and business hosting plans.
Cons of Hostinger Hosting
Although I didn't find anything major but would like to mention few which I experienced-
Live chat is only for the registered users. You should be logged in to chat
Only one domain is free while you need to pay for others
There are limitations in money back guarantee
Hostinger Hosting Pricing & Plans
As said, Hostinger offers various hosting types like WordPress hosting, shared hosting, VPS hosting and many others. Let's see the different plans and pricing of Hostinger. Currently, they have offered to go on and so, you can see huge discounts-
With every hosting, every Hostinger use will get the following features-
Along with this web hosting, hosting also offers VPS and dedicated servers. You can select the one as per your need. For a starter, normal shared hosting works best. While for high traffic site, VPS and dedicated server work better.
Conclusion
This was all about the Hostinger Review. I hope you got a good idea about the Hostinger and how they are leading the web hosting industry.
If you're a beginner, then Hostinger offers amazing features at the very low price and so they are known to be the cheap website hosting.
If you've used Hostinger, do share your experience with us.
Hostinger Review
Summary
Hostinger is a leading web hosting company with amazing features and pricing. If you are looking for cheap and best website hosting, you can go with Hostinger web host. Check our Hosting review for the details.