Whenever you start any new project online, the one thing that comes to mind is- how to create business logo in budget?
When we started our new project last month, the same question how to create a business logo in the budget.
Usually, people disbursed their budget on the stuff like the development of the site, domain, hosting, etc. and at the end think of logos and so face budget related issues.
In this article, I am going to share all the details about how to create business logo in budget.
But before moving ahead, let's see why you need a professional logo for your business.
Why you need a professional logo for business?
There are various reasons behind this. I am going to list few of those below-
• Creates the identity of your website/business
• People consider this as a trust factor
• Can be your identity going forward
• Helps in legal company stuff and many others.
Just think of the logos shown in the below image. Do you really need a company name to identify these logos?
The same you can also expect with your logo in the run and so needs to be designed with care.
Most of the people usually get worried on the logo costing part like how much it will cost. Let's see the pricing option.
How much a logo cost?
Well, this completely depends on the way you are getting your logo designed. If you are getting your logo designed from some reputed company then it may cost you even $1000-$2000.
And even if you want, you can get your logo designed in just $5 from the freelancer's sites like Fiverr or UpWork.
So, what's the difference?
The major difference lies in the quality and uniqueness. If you're spending more money, there is a chance that you may get high quality and unique logos.
Usually, people get a logo designed for the software or most of the Fiverr guy design logo using some software. And there is a high chance that your design will be copied. Ultimately you are getting it from software which many others are using the same resource. It offers online services worldwide while for offline services you can go for Qp Software Web Design in China.
So, try to get a unique design for your logo so that it can be your identity in the long run.
Now if you are wondering how to create business logo in budget, I'm going to discuss two websites which help you achieve the target.
Using these two logo design websites, you can get your business logo designed in budget.
The best thing is, the design will be unique, you will find the quality and the cost will be also optimal.
Let's start and see the websites which help you to get logo designed online in budget.
How to create business logo in budget?- 2 top websites
Logo Design Contest
logocontest.net is a logo designing website where you can get the best logo developed in the budget.

It's the fastest, easiest and most affordable way to create your business logo. Launch a logo contest for only $29 and receive logo design concepts within hours.
It basically works on the concept of contests. You just put your contest with the details like what kind of logos you want and done.
You'll receive lots of designs from graphics designers. You can review those designs and select the one which you find better.
Again, if you want, you can get the finalized logo customized as per your requirements. The contest listing price is just $29.
Here is a simple three-step process to launch your contest and get your business logo designed from the website.
Now the price depends on the kind of service. $29 is the listing fee. Now the prize money depends on what you want to reward. Minimum reward is $99 and you can put more to attract quality designers.
If you want your contest to be put in featured categories to attract more designers, you'll have to put $19 extra. And if you want the contest to be private then you will have to pay $30. But these are optional. Here are some sample logos designed by contests.
Freelance Logo Design
freelancelogodesign.com is another website, I will recommend for a quality business logo.
This website also works on the similar there-steps process to get the final logo delivered. Here are those-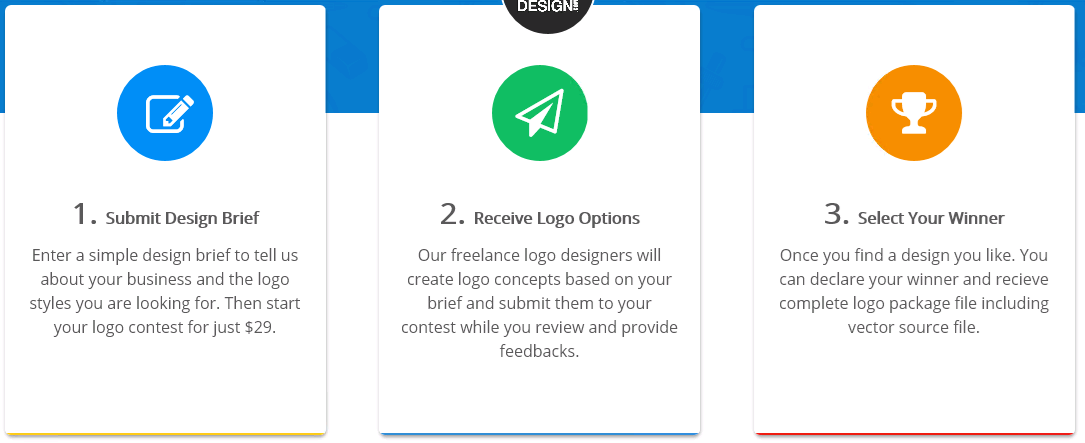 You need to submit your design; review the proposal received and then finalized your design. The pricing again starts at just $29.
The pricing is also similar to what we saw above and you can get a business logo in 24 hours.
Conclusion
These were a couple of websites using which you can design a business logo in the budget. Just share your requirements, get the proposals, and finalize the design.
I hope you are clear with how to design a logo in the budget and can get a unique logo in the budget. Do try these services and share your feedback.