Have you ever experienced an issue with your windows password and tried recovering it? Well, this can be a time-taking process and people look for the safe tools for Windows password resetting.
UUkeys Windows Password Mate is one such tool which helps you to recover the windows password. The best thing with UUkeys is it helps you recover the password without any damage to your system. This also doesn't require any kind of windows reinstallation.
Why you need a Windows password recovery tool?
Well, there can be various reasons for this!
Let's say you have forgotten the admin password and you have no way to access that password. In such cases, you must need a Windows password recovery tool to avoid reinstalling windows.
If this is the scenario you are facing, don't be panic as you can access your system using UUkeys windows password recovery software. We will see how UUkeys works later in this UUkeys review.
UUkeys Review
UUkeys is a technology product company started in 2009 and majorly working on the security stuff. They have multiple products like password recovery, recovery bundle, backup unlocker etc. which you can try for free.
Today we will discuss the UUkeys password recovery tool. There are many options to recover the password of your Windows system like if you have created the backup disc then it will be damn easier but what if you have not created such disc.
Don't worry still you are in safe hands and you will be able to recover the Windows password easily. UUkeys Windows Password Recovery program is the best choice to remove the login password and security settings that may prevent you from logging quickly and safely. It can be able to remove login restrictions, including account disabled or password forgotten.
The whole procedure just involves three steps and you will be able to recover the password.
Step 1: Directly download and install the UUkeys program on an accessible PC. You can download it free using this link.
Step 2: Insert a blank CD/DVD or a USB Flash device into your accessible computer, then launch the program and start to burn a reset disk with the built-in ISO image.
Step 3: Reboot your locked PC from the pre-created reset disk to reset your password. Done!
Features of the UUkeys
Here are some of the excellent features of the UUkeys password recovery tool which you should know before using it.
Compatibility: The software is compatible with almost all the version of windows. It has been tested on Windows 7 and a higher version with different hardware configuration and has worked fine.
Easy to Use: Simple operation, simple and elegant interface as well as MS Word program. No computer skills required.
Completely Safe to use: They are using the concept of absolute security design and so it is completely safe to be used.
Pricing
You can first check UUkeys password recovery tool for free and once you are satisfied, you can sign up for the paid plan. Here are the different plans available for the users.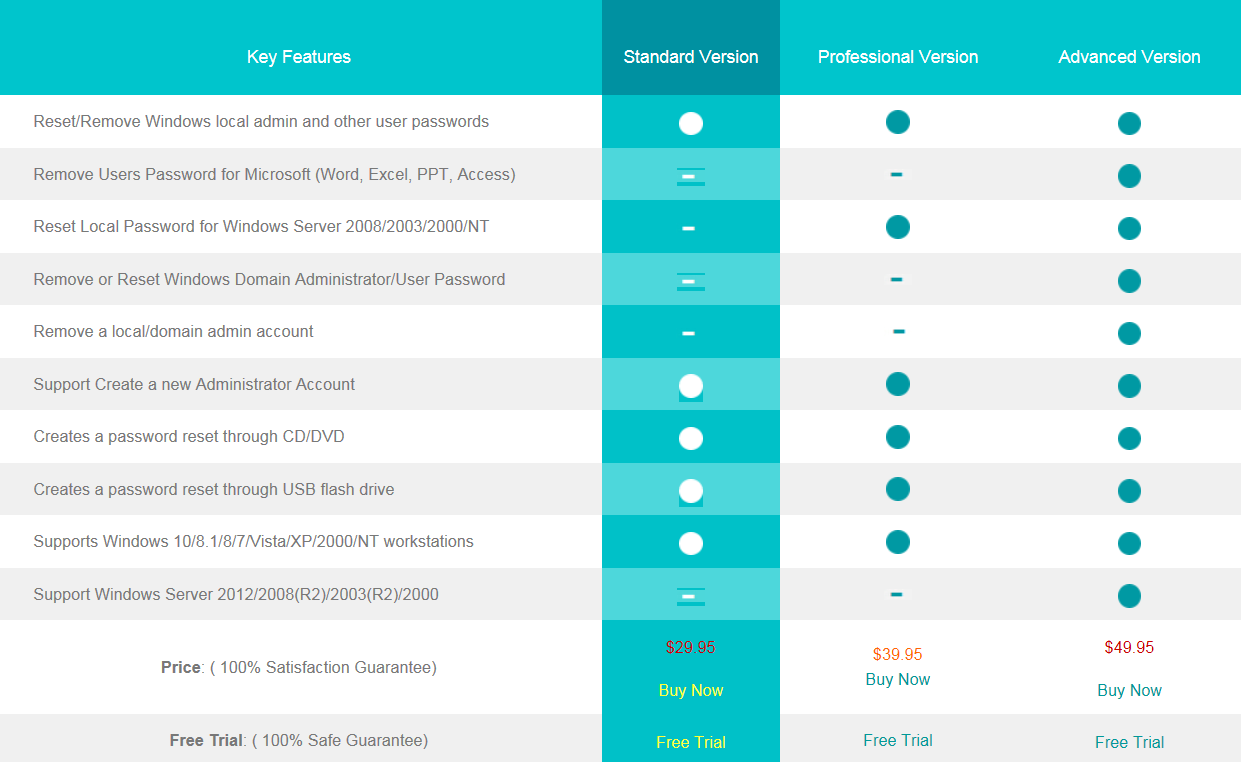 All the prices are one-time price and they are also providing 24-hour support through email and chat. This helps you to get the quick resolution on any solution.
Conclusion
This was all about UUkeys Review which you can use for windows password recovery. This is an excellent tool to recover the password of the Windows system.
UUkeys Review
Summary
UUkeys is a product development company providing multiple products for use. Their windows password recovery tool is quite recommendable for the general and commercial use which enables you to recover the password without restoring windows.