There are many instances when you may have deleted some files accidentally and later may have struggled to recover it. It's not that easy to recover the deleted files unless you have a tool which really works. Internet is full of file recovery software with loft promises, but not all really works. You need to try some software before one will really work for you.
Recently, I also faced a similar situation where I deleted a few docs and later realized I needed those. For the same, I tried a few file recovery software, but the first two software I tried didn't work. So, I thought to review a file recovery software which really worked for me, and it is – Remo file recovery software. Although Remo file recovery software is not the only one which works, this simple and effective tool does the work very well. In this Remo file recovery software review, I am going to share my experience with this tool.
Remo file recovery software – Overview
Remo software is a company which offers a suite of tech products for general use. They offer range of products like – data recovery software, file repair tools, outlook tools, and other small software like – duplicate photo remover, file eraser, etc.
Our focus for today's review is for file recovery software. We have a deleted file recovery program for Windows, Mac, and Android platforms. I have personally tried two out of these – Windows and Mac, but will focus on Windows for this review. The tool scans the drive which you are putting as input and scans for all deleted files and shows you the list. You can review the files and select the one/many that you want to recover. The best thing about Remo file recovery software for windows is, it also looks for corrupted discs.
How to recover deleted files using Remo file recovery software
Here I am going to show you step by step working of Remo file recovery software. Once you will open the tool, you should get a welcome screen to select the drive you would like to recover.
Next, you can click on the scan button, and you will get a new screen where it will be scanning and then click on dynamic recovery view.
By now, the software should have finished the scan and does deep scans to look for more files. Here you can use the search bar to search for the specific file that you want to recover as well.
Once you found the file you would like to recover, double-click on it, and it will show you the preview of it. Check the details and select the file you would like to recover.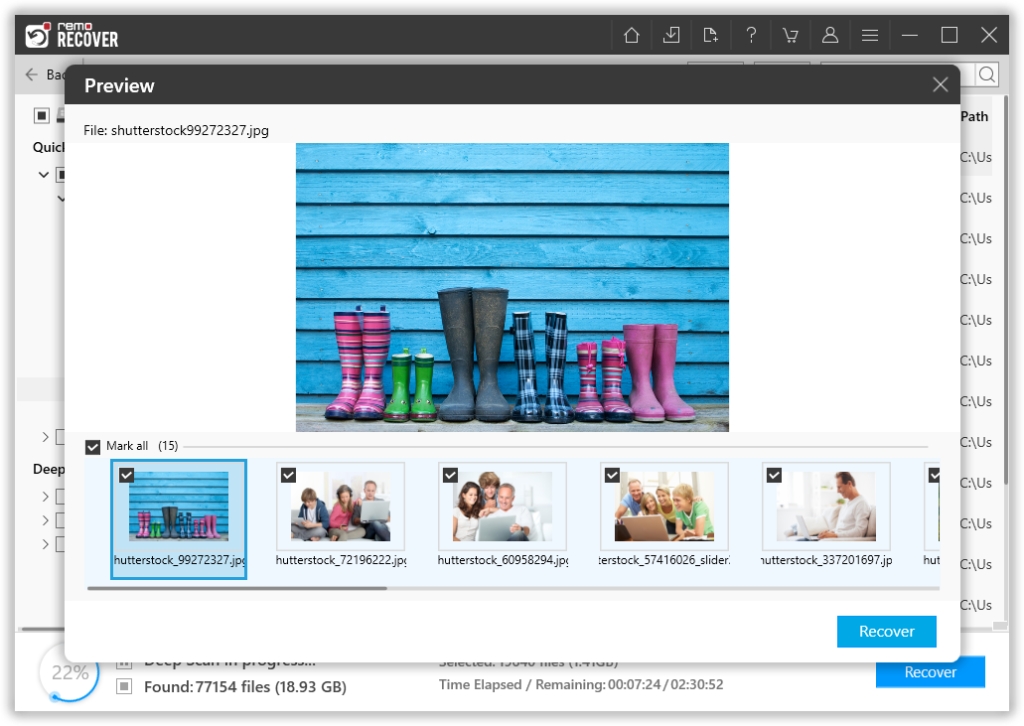 You can recover multiple files at the same time as well-
That's it, your file will be recovered and saved in your system. You can open it like any normal file.
Supported file types
Usually the tool supports all file types to recover. For example-
Files/documents – Docs, HTML, PSD, etc.
Photo – JPG, RAF, DCR, etc.
Videos – AVI, MP4, 3GP, etc.
Music – MP3, MP4, AMR, etc.
Pricing for Remo file recovery software
You can download and install both windows and Mac versions of the software. This is majorly the demo version and you will be able to scan and preview the deleted data. To recover those data, you will have to buy the paid software which costs $69.97 for a month, $79.97 for 6 months and $199.97 for a lifetime subscription. It's always beneficial to buy a lifetime subscription. All of these plans come with 30-days money-back guarantee and tech support.
Conclusion
This was a quick guide to Remo file recovery software review. If you have deleted some files and looking to recover it, it's time to try this tool and recover your files in no time.
Remo file recovery software