If you are an internet marketer or affiliate marketer, you might have faced issue while tracking your affiliate links. Usually, we run different campaigns at different places and it becomes tedious to track all. And here Shorty WP plugin helps. Here we will be doing Shorty WP Review where we will talk how Shorty WP is one stop solution for all the affiliate links analytics related need.
Let's start with Shorty WP review and see how it will help you in the affiliate marketing journey with all the links and analytics related work.
Shorty WP Review- Introduction
Shorty WP is a WordPress plugin developed and maintained by Gobala Krishnan and is being used by thousands of marketers worldwide. It has been claimed that after using this plugin, many people have received over 700% improved in the affiliate sales. And this is certainly a huge improvement in the sales and so the revenue.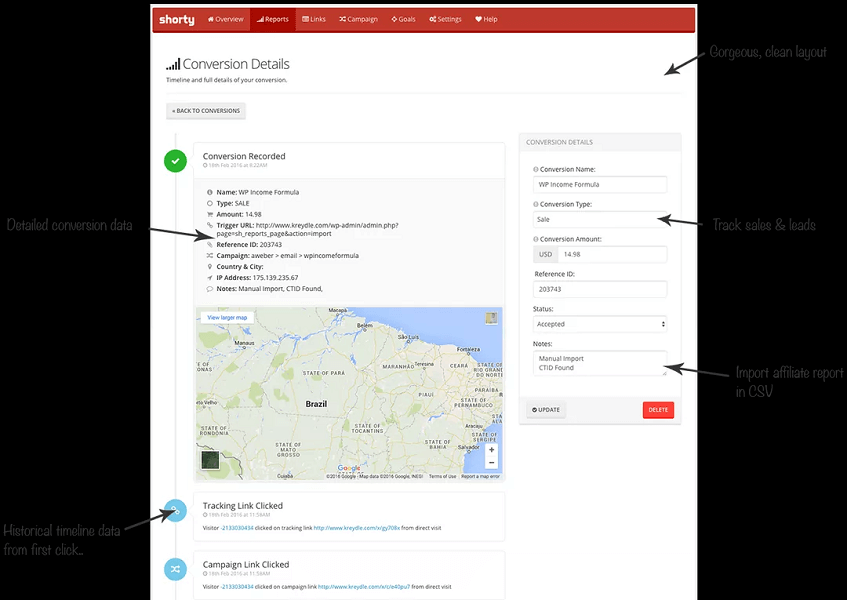 It is all-in-one affiliate link management, redirect, conversion tracking, and intelligent reporting system designed for the affiliates who want to take their business to the next level.
With Shorty WP Cloaker, you can make your affiliate links readable, small, and can track it with all aspect. By this way, you can easily come to know how each link is performing and so you can work on the less performing links.
Features of Shorty WP Cloaker
Here are some of the amazing features of Shorty WP Cloaker which you should know in order to proceed with the WP plugin.
Shorten, Cloak & Track Links
You can cloak long, ugly affiliate links into short tracking links with your own domain name. Research has proven that your customers are 7x more likely to click on links that look clean & natural!
For example, a long affiliate URL like http://amzn.to/2hFUx1q can be written like hdfstutorial.com/amazon
Definitely, the latter URL is looking great and will maintain a trust in your visitors and so will increase sales.
Affiliate SubID Tracking
Shorty WP Cloaker will add a unique sub id on all your affiliate URL so that you can track it easily. Also, the sub id will vary depending on the network you are working. You don't have to do anything wrong.
Custom Geo-IP Redirect
Shorty WP Cloaker will automatically redirect your visitors to the location specific sites. For example, sometimes different affiliate URLs are for different countries and in such cases, if someone is clicking on your affiliate link from some other country, he/she will be redirected to the country specific site. This helps you increase the sales, ROI, and CTR.
Turn Blog Keywords into Links
This is a great feature of Shorty WP Cloaker where the plugin will automatically insert the affiliate links based on the keywords. This applies to all the old articles published on your site as well. By this way, your earlier posts will also start generating the revenue for you.
Link Monitoring & Downtime Alerts
Usually, if you are using some URL shortened tools for shortening your affiliate URL then there is a risk where your short URL may get banned. And this is a general case where Google short URL, Bit.ly shortened URL usually gets banned and people start losing their sales.
If you are using Shorty WP Cloaker then you can avoid such situation. It helps you track the URL and inform you whenever your link is down so that you can immediately act.
Click Limit & Link Expiration
If you are working with CPA or CPL campaigns, this feature will help a lot. Usually, CPA campaigns expire after some days and so you can set an expiration to your affiliate links as well with the help of Shorty WP Cloaker.
Instant Postback URL Builder
Easily generate Postback URLs that you can use with your CPA network and any affiliate network that allows Postback tracking to automatically record affiliate conversions.
Access and Reporting
If you are working with a team where you can set the different access levels for different people so that they will have just the required access.
You will also be able to make all the reports like conversion report, traffic reports etc. right from the dashboard. You don't need any other tools for it.
Shorty WP Cloaker Integration with other CRM
Nowadays, the success and flexibility of any tool depend on how flexible it is while connecting with other CRM. Shorty WP Cloaker wins here as it provides direct integration with many advertising and affiliate networks.
You can also connect it with Facebook Ads, Google Ads, AdRoll etc. and can avail the same features.
Here are some other features of the plugin which you can check below.
Plans and Pricing
As shared above, Shorty WP Cloaker is a paid tool which provides plenty of features at very less cost. Also, the best thing is you don't have to pay any monthly charge and once you buy it is for you for a lifetime. Apart from this, there are some huge goodies which you will be given along with the plugin license.
Conclusion
This was all about Shorty WP Review. You can try this plugin and buy as per the plans shared above. If you are an affiliate marketer or looking to it, this is a must have a tool to manage all your links.
Also, as Shorty WP Cloaker is a WP plugin and so managing the affiliate links are even easy and directly from the WP dashboard. You can check their tutorial page for more details as well.
Shorty WP Cloaker Review
Features

Pricing

Integration with Ad Networks
Summary
Shorty WP Cloaker is an excellent WordPress plugin for the affiliate marketer. You can use this WP Plugin and can short the long affiliate URL and track your affiliate URL. This will help you manage the affiliate links and sales better.