Tableau is a leading data visualization tool and we have covered a lot of Tableau earlier. Even though you can create great visualization and story in Tableau but still for some executive presentations, you may need PowerPoint. I was in the same situation recently and started exploring can we embed Tableau dashboards in PowerPoint?
Luckily, the answer is yes!
If you are also in the same boat, then this article is for you where we will see how to embed Tableau dashboards in PowerPoint. Here I am not talking about using dashboard as an image or downloading dashboard as PowerPoint. Here, we will actually embed the live Tableau dashboard in PowerPoint.
Quick FAQ on Embed Tableau dashboard in PowerPoint
Can I embed the live Tableau dashboard?
Yes, you can embed the live dashboard in Microsoft PowerPoint
Can I interact with the dashboard embed in PowerPoint?
Yes, when you embed a Tableau dashboard, you can interact with the dashboard in PowerPoint itself.
Is this feature only available for paid licenses?
No, you can embed the dashboards from Tableau Public, Tableau online, and Tableau server until embedding is allowed in the dashboard.
Steps to embed Tableau dashboard in PowerPoint
Following are the simple steps on how to embed Tableau dashboards in PowerPoint. This method also brings you the interactivity of the dashboard in PowerPoint to communicate better.
Step-1: Install "Web Viewer" Add-in to Microsoft Office
Open PowerPoint and go to the insert tab and click on get add-on. This will open a pane where Office add-ins will be mentioned. Using the search box, search for "web viewer"  and click on the Add button.
Once you install the web viewer, it should be in your My add-in menu.
Step-2: Embed a tableau dashboard:
Now, to insert a live Tableau dashboard, you should go to insert in PowerPoint, click on My Add-ins, and then on the web viewer (Insert → My Add-ins → web viewer). If you don't see web viewer add-in, please make sure you are signed in from the account through which you installed it.
You can also select HTTPS version URL. Usually nowadays almost all websites use SSL certificates and so, mostly your URL should start with HTTPS including Tableau public. Also, when you paste your Tableau dashboard link in the above pain, don't add HTTP or HTTPS.
Once you click on the web viewer, you will get a screen asking you to enter the Tableau dashboard URL.
To get the Tableau dashboard URL, simply open your dashboard and get the link as shown below. You can visit this link to explore the sample dashboard.
Once you have pasted the URL, you can preview it to see what it looks like-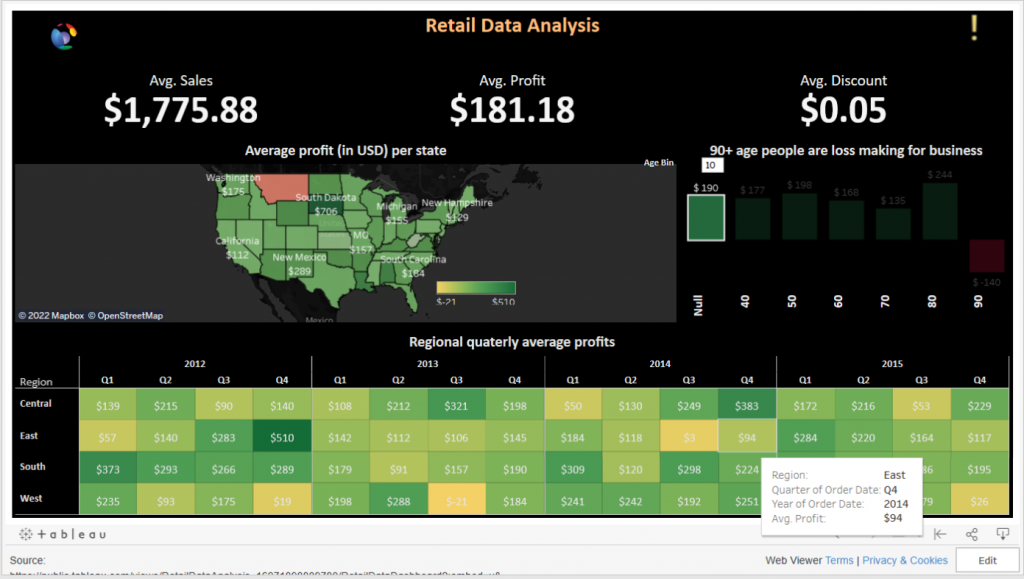 There is a chance that you might get a pop showing some info or warning, it is safe to go with it. This may come about because this add-in is meant for a secure web page. Once you are fine with the preview, feel free to insert it and start using it.
Limitations on using web viewer add-ins to embed Tableau dashboards in PowerPoint
Here are some of the facts you need to consider before you embed the Tableau dashboard in your PowerPoint presentation-
You should have an active internet connection for the Tableau dashboard to load in PowerPoint
The authentication and access setting on Tableau dashboard should be given properly so that you don't get access issue. This is for when you are using Tableau server/online.
If you share the presentation with someone who has Tableau dashboard embed and the next user don't have web viewer installed, then they will get a pop-up asking them to trust the add-in
Conclusion:
Here is a quick guide on how to embed Tableau dashboard in PowerPoint presentation. It's quite useful feature when you are going to executive meetings where you need PowerPoint yet have to do some data explorations like using filters, double clicking, etc.
If you are looking for sample Tableau projects, get here sample Tableau projects.
Video walkthrough