Last week I passed the Tableau Desktop Specialist Certification with 95%. Yes, on 7th August 2020 I passed the exam and the best thing was I registered for the exam on 6th only.
I am writing this post to help you all clear the Tableau Desktop Specialist Certification in 1st attempt and guide you.
So, the story started like this-
I have been working on Tableau since quite some time now and on 6th I was just browsing few stuff related to new Tableau version on LinkedIn. And then I found few passing certificates on LinkedIn following.
I have been a believer of practical knowledge and experience and everything can come later. And this is one of the reason, why I had not taken the certification test yet.
As I was having sometime so, I immediately thought of scheduling the exam for the same day (6th Aug) but the slots were not available. And then I found an open slot for 7th Aug and I immediately enrolled for it.
And here is the result-
Looking for 1-1 Tableau training?
Are you looking for 1-1 training, join us and get certified.
So, if I can pass you can do too!
I am now planning to get all the remaining Tableau desktop certifications as well and will update the progress on those as well.
So, let's start and share my Tableau Desktop Specialist Certification experience with you all.
What is Tableau Desktop Specialist Certification?
This is the most basic Tableau Desktop certification by Tableau out of the three. Tableau provides 3 certifications for developers which we call related to Tableau desktop-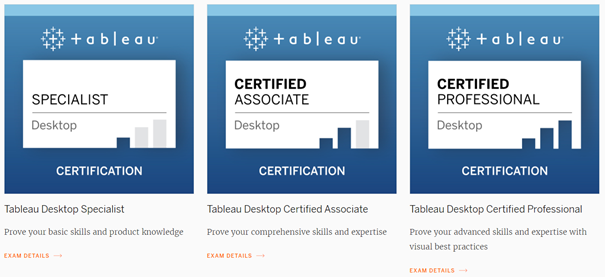 There are a couple of more related to tableau server which we will talk in some other posts. As you can see Tableau Desktop Specialist Certification is the most basic one followed by Associate, and the most advanced is professional.
In Tableau Desktop Specialist Certification, they test your product knowledge and some hands-on with Tableau desktop as well related to data analysis. I found, for around 40% of questions you will need to create something in Tableau desktop.
Tableau Desktop Specialist Certification Details
Total Questions- 30
The time allowed- 60 Minutes (You will need around 30 minutes for the verification and so if you're starting your exam at 3, it will go up to 4:30 or as soon as you complete)
Passing Marks- 70%
Hands-on Questions: 30%-40% of total
Cost- $100 (Once you pay, you have 6 months duration to take the exam and also you can reschedule for free before 24 hours of the exam)
All the questions will be multiple choice questions and majority of those will be for multi-select as well. So, be careful here.
Tableau Desktop Specialist Certification Preparation
As this is the basic exam and so, a lot of experience with the tool is not necessary. Tableau recommend having 3-months of hands-on experience to take this exam. The Tableau desktop version you will get in the exam will be usually one lesser release than in the market. For example, currently, we have 2020.2 and so in the exam, they test on 2020.1.
Here are some of the resources you can follow for the preparation-
#1 Official Syllabus
You can find the official syllabus here. Go through each topic carefully and at the end of the same file, you will also find 10 sample questions, try to solve those. And once you are done, match your result and explanation with the official solution provided in the same PDF file.
#2 Official e-Learning
During the COVID period, Tableau was allowing access for free but the offer is expired now. You now need to pay for this and it costs $10 per month where you will get all the e-learning modules for Tableau Desktop and Tableau Prep. For Tableau Desktop Specialist certification, you can follow their desktop-1 learning course. Here is the content of the course covered in e-learning.
#3 Free Official Training Videos
This is the free learning video series by Tableau and you will find it updated with the latest releases. It's a great platform by the Tableau to get the best of it. You can find it divided into various sections and videos according to it.
#4 Online Courses
If you're new you can go for online courses as well. Most of the courses vary between 3-10 hours and by spending around a week, you will be able to finish those easily with hands-on. Udemy, YouTube videos, and other similar platforms can be a good starting point.
If you want to learn Practical Tableau, connect with us.
#5 Practice Exams
I believe in doing a lots of practice before going to the exam and so, within a day, I almost checked all the major Tableau Desktop Specialist Certification dumps. Here are some of the major Tableau Desktop Specialist Certification practice sets you can follow-
Practice quiz by learningtableau.com (subscribe them to get all the access) – learningtableau.com/practice-quizzes/
Sample quiz by Simplilearn (very easy compared to exam)- simplilearn.com/tableau-exam-questions-free-practice-test
You can also follow this test by Takethiscourse- takethiscourse.net/tableau-certification/
How to schedule Tableau Desktop Specialist Certification Exam
Tableau has authorized a third party vendor LES for the certification. You can follow this link to register for the exam. If this is your first time, you need to create an account on LES.
Click on create a new LES account and you will be redirected to a new page where fill out all the details and create your account followed by log in.
On the dashboard select the option of order a new exam and you will get the screen like below-
Select the specialist exam from the dropdown and proceed. In the next step, you need to make the payment of $100 and once done, schedule the exam.
You will be shown the available date and time and select accordingly. Please note once you purchase the exam, you can take it within 6 months. And also, you can reschedule the exam for free before 24 hours of exam scheduled.
How to succeed on the exam day?
Things to take care before the exam
Following are the checklist you should follow before taking the exam (on the exam day before the exam starts)-
Keep one government id card which should show your name and photo clearly
Your internet connection is good (they will test it and lag time should not be more, ideal is <150 ms)
Desktop is preferred but laptop can work as well
Make sure to have the speaker is inbuilt in the laptop and is in working condition
Although external headphone is not allowed but if your speaker is not good at all then you may be allowed while speaking only (this depends on the proctor)
There should not be anyone other than you in the room
On your table where you will be taking the exam, there should not be any paper, secondary monitor, phone or any such items
All the doors should be closed
Other than Google chrome, no other applications should be open on your computer (proctor will check this from task manager)
Keep clam!
 During the exam
Login to your LES account and select the option "take your exam". This link will be enabled before 1 minute of scheduled time
You will be connected to your proctor through Zoom or Go To Webinar (you may need to wait for proctor for few minutes)
Proctor will ask you to show the 360 degree of your room and will ensure your workspace is clean. This may take around 15-30 minutes and will be outside of the designated 60 minutes of your exam
Once all is done, you will be logged in to virtual desktop where you will find Tableau desktop installed (2020.1 version in my case), a folder with few files, and Mozilla Firefox browser installed
Once you officially start your exam, additional 5 minutes will be given to you for reading the instruction, how to flag a question and similar tips. You may skip this and jump to the exam directly.
Additional Tips for Successful Exam
Here are some of the tips which you can follow to ensure a successful exam. I am writing this based on my experience.
Don't press the escape button at any time, you're not supposed to come outside of the virtual machine
As you will be working in a VM environment and so expect it to be a little slower compared to your system
If during the internet check, you found the lag was >150 ms then you may find the proctor's voice coming with some lag
Open a new worksheet for each question wherever you need to create something or check and rename it with question number to recheck if required
Flag the question which you think can take some time and come back later
There will be many questions with more than one answers, solve those with utmost attention
If there are questions that say how many measures needed to create a treemap, better go to tableau desktop and see what are the requirements. This way you can ensure the correct answer. The same applies to steps related questions as well
And yes, you can Google for any questions as well
Try to finish the test in 45-50 minutes and give 10-15 for flagged questions and re-checking the questions
After the exam
After you finish the exam, there will be a short survey which you need to fill. Once you finish this, your result will be displayed there and you can close the exam. Proctor will help you in all these.
After successfully finishing the exam, you will get the certificates and exam summary on your email and also can be found on LES site.
Last Points
Tableau Desktop Specialist Certification is the basic certification out of all. Although you can expect 30-40% hands-on questions where you will have to connect excel/CSV files and also may need to open twbx file from the desktop and solve. But if you have prepared well, you will be able to make it.
Prepare well for the exam and appear for test.
I wish you all the best and do share your experience/queries in the comment box.